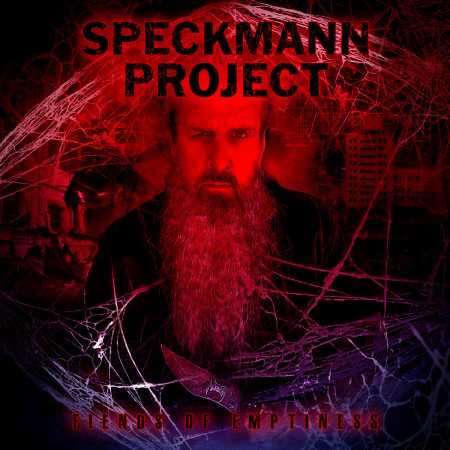 SPECKMANN PROJECT
Titel: FIENDS OF EMPTINESS
Label: EMANZIPATION RECORDS
Spieldauer: 35:22 Minuten
VÖ: 22. April 2022
Irgendwie ist mir immer noch unverständlich warum Paul Speckmann nie die Ehre zuteil wurde, die ihm als einer der Godfathers of US Death Metal neben Chuck Schuldner, Chris Reifert, Jeff Becerra oder Trey Azagthoth zugestanden hätte.
Nun sei es drum, Paul macht unbeirrt weiter und veröffentlicht dieser Tage "Fiends of Emptiness" unter seinem SPECKMANN PROJECT. Die Songs an sich sind bereits vor über 30 Jahren komponiert worden und werden hier in feinster Speckmann Manier dargeboten. Heißt im Klartext: schnörkelloser und direkter Death Metal der Anfangstage mit starkem Thrash Metal Einschlag. Seine räudige und markante Stimme sowie flotte und simple Riffs aus den Handgelenken von Tausendsassa Rogga Johansson prägen den Old School Sound der Platte. Sie versprühen End-Achtiziger Vibes, die SPECKMANN PROJECT hier ganz ordentlich konservieren. 
Highlights kann ich hier kaum nennen, die Tracks sind recht gleichartig ausgerichtet ohne dabei Langeweile zu erzeugen. Der punkige Einschlag des Riffings sorgt für eine schöne Portion Rotzigkeit. Der keltische Frost und der Höllenhammer sind aber immer wieder zu spüren…
Auch wenn die Platte ein wenig anachronistisch daher kommt und keine Neuerungen bringt hat Paule mal wieder eine ordentliche Rumpelplatte zusammengeschnürt. Wenngleich mir Death Strike und Master aus Pauls Bandfundus am Besten gefallen, hat "Fiends of Emptiness" durchaus seinen Charme.
Ingo Holzhäuser vergibt 7,5 von 10 Punkten