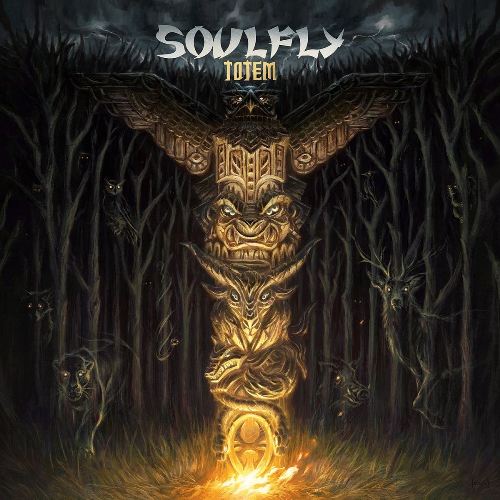 Spieldauer: 40:05 Minuten
VÖ: 5. August 2022
Max Cavalera's Spielwiese namens SOULFLY gibt es jetzt tatsächlich auch schon fünfundzwanzig Jahre….wie die Zeit vergeht.
Zugegebenermaßen war ich nie ein ausgeprägter Fan sowohl von Sepultura als auch von SOULFLY. Allerdings haben beide Bands auch immer noch ihre Berechtigung im Bereich des Thrash Metals, auch wenn sich hier und da doch mal Längen in den Werken von Max ergeben haben.
Die Scheibe, "Totem" betitelt knallt aber überraschend knackig aus den Boxen, was hauptsächlich an den fetten Riffs liegt.
So überzeugen mich Tracks wie der zwischen fetten Geprügel, treibenden Mid Tempo Groove und schleppenden Passagen wechselnde 'Superstition', der groovende Stampfer 'Scouring The Vile' und das drückende 'Filth Upon Filth' gleich als fettes Eröffnungs-Triple.
Danach wird es etwas weniger zwingend, aber mit dem zwischen Mid Tempo Groove und Speed wechselnden 'Ecstasy Of Gold' hat Max auch im Laufe der Scheibe noch ein ganz ordentliches Eisen im Feuer.
Dennoch kann ich vermerken, dass die brachiale Gewalt von "Totem" mehr auf den harten Riffs beruht, die Max hier zu Hauf abfeuert. In Punkto Songwriting allerdings, schaffen SOULFLY es des Öfteren nicht, diese Riffs in zwingende Strukturen ein zu betten.
Wer auf knackigen, riff-orientierten South America Thrash Metal steht, kann das neue SOULFLY Werk aber ruhig mal checken.
Ludwig Lücker vergibt 7 von 10 Punkten