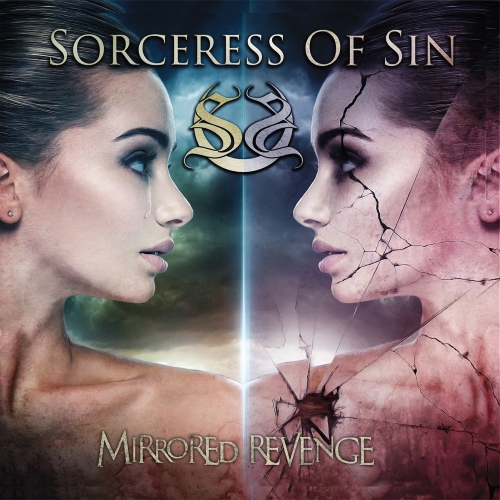 SORCERESS OF SIN
Titel: MIRRORED REVENGE
Spieldauer: 45:16 Minuten
Stark sein, heißt es zunächst, Zähne zusammenbeißen, los jetzt, trau Dich und drück die virtuelle Playtaste. Grund für dieses ängstliche Zaudern ist ein kurzer Absatz im Beipackzettel zum Debutalbum 'Mirrored Revenge' der britischen Melodic-Power-Metal-Band SORCERESS OF SIN. Sängerin Lisa Skinner hat nämlich eine klassische Opernausbildung und hat an diversen Musical-Produktionen partizipiert. Soundvisionen von klebrigem Bombastmüll ziehen am geistigen Ohr vorbei, und erklären die Zögerlichkeit des Verfassers dieser Zeilen.
Aber nichts da, völlig umsonst eingenässt, bei SORCERESS OF SIN liegt die musikalische wie auch gesangliche Betonung auf Power. So dominieren kräftige Gitarrenriffs, Keyboards tauchen allenfalls als kleine Farbtupfer auf, und anstatt an Nightwish fühlt man sich häufig viel mehr an Acts wie Firewind erinnert, da auch das Tempo gerne mal bis in den Speed-Metal Bereich angezogen wird. Lisa Skinners Stimme ist in den tiefen Lagen angenehm rau, in den Höhen sicher und kraftvoll. Vom Opener 'Vixen Of Virtue' bis zum an fünfter Stelle stehenden 'Splintered Shard' geben sich SORCERESS OF SIN keine Blöße und präsentieren Power Metal vom Feinsten mit klasse Gitarren- und Gesangsmelodien.
Leider läßt sich das Niveau nicht durchgehend hochhalten, so folgt mit 'Aradia' ein viel zu simpel komponiertes Stück, bei dem Frau Skinner zudem noch im Refrain den Beweis ihrer klassischen Ausbildung antreten muss, was nicht schön ist. Fortgesetzt wird dieses Tief mit der ebenfalls durch Operngesang vernichteten Ballade 'Echoes Of Existence'. Mit den letzten drei Songs reißen SORCERESS OF SIN das Ruder noch einmal herum, wobei jedoch nur mit dem Abschlußtrack 'Empyre Of Stones' noch einmal die anfängliche Klasse erreicht wird.
Als 6-Track-EP wäre hier von meiner Seite sicherlich eine Wertung im 9er-Bereich möglich gewesen. Definitiv aber ein sehr vielversprechendes Debut, auf das SORCERESS OF SIN aufbauen können. Sollte man im Auge behalten.
Dirk Eckhard vergibt 7,5 von 10 Punkten