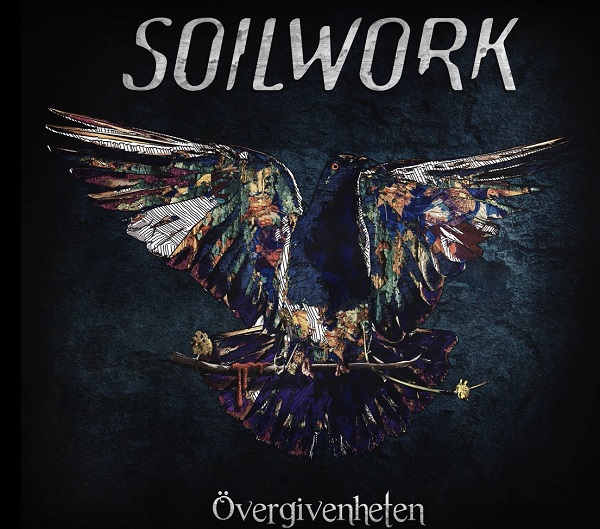 SOILWORK
Titel: ÖVERGIVENHETEN
Label: NUCLEAR BLAST RECORDS
Spieldauer: 65:20 Minuten
VÖ: 19. August 2022
Vor lauter Aktivitäten mit Donna Cannone, The Nightflight Orchestra, Act Of Denial und At The Movies hat man Björn Strid´s erstes und eigentliches Hauptbetätigungsfeld SOILWORK fast ein wenig aus den Augen verloren. Und ich muss gestehen, dass es mir vor allem mit dem Vorgängeralbum auch so ging.
Die Band jedoch bleibt im Fokus, insbesondere das Viert- und Durchbruchwerk "Natural Born Chaos" lege ich noch oft und gern auf, enthält es doch mindestens eine Handvoll Melo Death Hymnen (As We Speak, Follow The Hollow, der Titelsong, The Bringer, Black Star Deciever, etc.) für die Ewigkeit.
Nach den ganz persönlichen "Realitäten" ("Verkligheten") wird nun also die (Angst vor der) "Verlassenheit" ("Övergivenheten") beleuchtet. Der Opener und Titelsong sowie das abschließende siebeneinhalbminütige Doppel-Epos `On The Wings Of A Goddess/Through Flaming Shees Of Rain´ verdeutlichen am besten den vielseitigen, abwechslungsreichen, in Teilen fast progressiven SOILWORK Sound im Jahr des Herrn 2022.
Akustisch-reduzierte Passagen, Chöre, Soundtrack Elemente, Death Metal, mächtige Riffs, cleane Vocals und packende Refrains bilden homogene, stimmige Arrangements. Im Übrigen dominieren die typischen Melodic Death Nummern mit Doublebass-Attacken, harshen Shouts/Growls und eingängigem Chorus.
`Is It In Your Darkness´ und vor allem das fantastische `Death, I Hear You Calling´ bilden da die perfekten Beispiele und Anspieltipps. Gleiches gilt für das flotte `Electric Again´ und `This Godless Universe´, welches zusätzlich mit Streicherklängen verfeinert wurde.
Darüber hinaus fallen mit `Nous Sommes La Guerre´ und ´Valleys Of Gloam´ zwei Kompositionen auf, die beinahe poppig daherkommen und komplett auf cleane Vocals setzen, trotzdem oder gerade deswegen aber alles andere als schlechte Songs der Band darstellen.
"Övergivenheten" sowie SOILWORK anno 2022 sind packend und abwechslungsreich, verwischen auf beeindruckende Art musikalische Genregrenzen und sind auf unterhaltsame Weise beinahe progressiv. Oder anders formuliert: Fans werden es lieben und als kleines Meisterwerk oder gar Weiterentwicklung feiern, die Traditionalisten und OS-Jünger werden es vermutlich mehr denn je verachten.
Michael Gaspar vergibt 9 von 10 Punkten