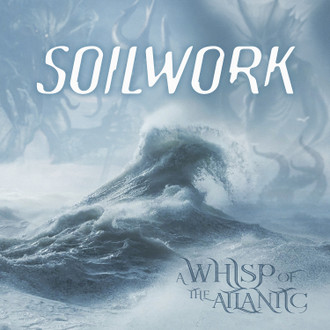 SOILWORK
Titel: A WHISP OF THE ATLANTIC EP
Label: NUCLEAR BLAST / WARNER
Spieldauer: 36:53 Minuten
Diese EP bietet definitiv quantity for money: "A Whisp Of The Atlantic" ist länger als so manches Album, was insbesondere an der eigentlichen Überraschung dieser EP liegt, ihrem Titelsong. Dieser ist mit über 16 Minuten der erste Versuch SOILWORKs, ein Epos zu komponieren. Der Song wartet mit zahlreichen Wendungen, dezenten Bläserarrangements, einem catchy Riff sowie einem hymnischen Hook auf – ist demnach also auch eine Abkehr vom melodischen Death Metal, der auf den beiden letzten Alben wieder in großartiger Form zelebriert worden war. Fans werden Speed Strids Faible für melodische Hardrocksongs wohl verstärkt akzeptieren müssen. Selbst in den härteren Momenten bietet der Song eindeutige Reminiszenzen an Bombast Rock der Sorte ELO und sollte demnach für Fans der härteren Seite SOILWORKs eine echte Herausforderung darstellen, denn hier geht die Luzi erst gegen Ende so richtig ab, nur um wieder von Pianoklängen abgefedert zu werden. Spannendes Experiment!
Das Herzstück der EP bildet die "Feverish-Trilogy" aus "Feverish", "Desperado" und "Death Diviner". Diese vorab vorgestellten Stücke werden die ursprüngliche Zielgruppe weitaus zufriedener hinterlassen, auch wenn der melodische Anteil weiterhin exorbitant hoch ist und es Strid nicht ganz überzeugend gelingt, die metallischen Ambitionen seiner Stammband mit den eigenen, inzwischen in diversen anderen Projekten und Bands ausgelebten Hook-Vorlieben zu vereinen ("Feverish"). Hier muss er aufpassen, dass die Kluft in der eiegntlichen Basiskompetenz SOILWORKs nicht zu groß wird: knackigen Modern Melodic Death-Hymnen. Für mich ist das abschließende "The Nothingness And The Devil" der heimliche Star auf "A Whisp Of The Atlantic": arschcooles Hardrock-Riffing gone nuts, nicht zuviele melodische Schlenker, das abschließende instrumentale Outro zur EP geht vollkommen in Ordnung.
SOILWORK rufen hier keine Begeisterungsstürme hervor, denn es offenbaren sich nunmehr an einigen Stellen echte Brüche im Bandsound, die es in Zukunft im Sinne der tollen letzten Alben zu kitten gilt. Dennoch ist "A Whisp Of The Atlantic" ein knapp gutes Lebenszeichen geworden.
Patrick Müller vergibt 7 von 10 Punkten