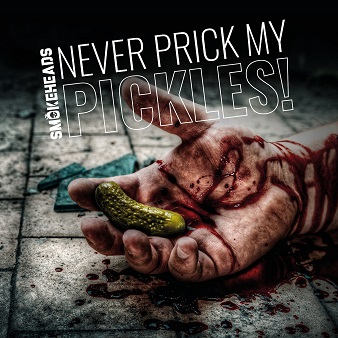 SMOKEHEADS
Titel: NEVER PRICK MY PICKLES (EP)
Spieldauer: 23:03 Minuten
Aufgrund ihrer Herkunft von der französisch-schweizerischen Grenze in der Nähe des Jura vergleicht die Bio den Sound der SMOKEHEADS mit Wildwasser, das sich aus den Lautsprechern ergießt und spricht von einer ganz neuen Legierung, die der Fünfer mit Hilfe einer unergründlichen alchemistischen Formel aus seinen zahlreichen verschiedenen Einflüssen geschmiedet habe.
Diese sind dann auch so zahlreich wie hochkarätig und vielfältig: Toto, Gojira, Queens Of The Stone Age, Mastodon, System of a Down, Tool, Porcupine Tree und Devin Townsend. Und tatsächlich hat die französische Band daraus ihren ganz eigenen, originellen Stil entwickelt. Faszinierende Rhythmik, raues Riffing und die tiefe, facettenreiche Stimme des Fronters David Zamora charakterisieren den einfachen und doch faszinierenden, zudem modernen und packenden Sound.
Der Opener 'In Between' groovt und rifft dann auch direkt dementsprechend drauflos, ehe ein zwingender Refrain einsetzt, der von einer rockigen "Foo Fighters-Passage" abgelöst wird, bevor ein noisiger Ausbruch das Stück beendet. Ein ruhiger, akustischer Beginn und Vocals, die mich an Nirvana erinnern kennzeichnen 'Nothing Is Ramdom', ehe es in typischer Mastodon-/Gojira-Groove/Riff-Manier weitergeht.
'One Million Ways' wartet dann mit Elektro-Elementen und verzerrten Vocals auf, bevor der Closer 'Hate And Love' sich mit ebenfalls ruhigem Beginn, Prog-Passagen und sogar einem längeren Solo sich zu meinem persönlichen Favoriten mausert. In jedem Fall ein sehr unterhaltsamer, vielschichtiger Kurzplayer, der Lust auf mehr von diesem ungewöhnlichen, mächtigen Sound macht!
Michael Gaspar vergibt 7,5 von 10 Punkten