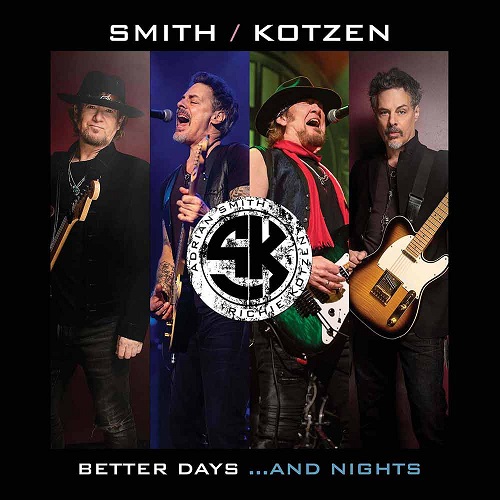 SMITH/KOTZEN
Titel: BETTER DAYS …AND NIGHTS
Label: BMG RIGHTS MANAGEMENT/WARNER
Spieldauer: 49:31 Minuten
VÖ: 16. September 2022
Iron Maiden Gitarrero Adrian Smith und Multitalent Richie Kotzen (Poison, Mr. Big, Glenn Hughes, The Winery Dogs) machen als Projekt SMITH/KOTZEN gemeinsame Sache und haben im vergangenen Jahr ihr selbstbetiteltes Debütalbum veröffentlicht.
Geerdeter und bluesiger Hardrock von schnörkellos bis beinahe jazzig ist das Ding der beiden Gitarrengötter und dabei können sie ihre musikalische Klasse voll ausleben, sich imposante Solo-Duelle liefern und auch ihre gesanglichen Qualitäten zur Geltung bringen.
Die neue Scheibe enthält fünf Livetracks ("Nights") von der ersten intensiven Tour der Beiden durch die USA und Großbritannien Anfang 2022 sowie – zum ersten Mal überhaupt auf CD – die vier Studiotracks ("Days") ihrer ausverkauften Limited Edition 12″-Vinyl-EP "Better Days", die im November 2021 veröffentlicht wurde.
Die vier Stücke wurden also zeitlich nach dem Debüt veröffentlicht und schließen musikalisch somit nahtlos daran an. Die beiden Ausnahmekünstler arbeiten Hand in Hand und die vier Stücke offenbaren deutlich sowohl ihr instrumentales Können als auch ihre hör- und fühlbar optimale Teamchemie.
Der anschließende "Nights"-Teil des Silberlings enthält fünf pulsierende, beeindruckende Bühnenpräsentationen, darunter die beiden "Days"-Tracks `Got A Hold On Me´ und das grandiose `Hate And Love´ sowie mit `Scars (Live)´, `You Don't Know Me (Live)´ und `Running (Live)´ drei großartig ausgewählte Stücke ihres letztjähriges Debütalbums.
Dazu gibt es einige Ansagen, die Entertainerqualitäten andeuten und begeisterte Publikumsreaktionen sowie zwei Protagonisten, die auch in der Livesituation zeigen, dass sie es einfach draufhaben.
Es handelt sich somit um eine stimmige, kurzweilige Scheibe, die sich sowohl qualitativ (sowieso), als mit beinahe fünfzigminütiger Spielzeit auch quantitativ durchaus sehen lassen kann. Andererseits bietet sie weder neue Musik, noch stellt sie ein vollwertiges Livealbum, sondern eigentlich zwei EPs auf einem Dreher dar. Ob das dem Einzelnen dann wert ist, den vollen CD-Preis zu berappen, muss dieser wie immer höchstselbst beurteilen.
Michael Gaspar vergibt 8 von 10 Punkten