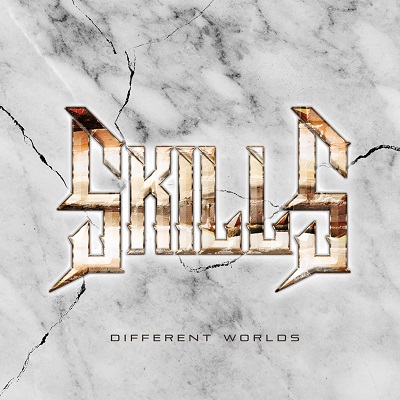 SKILLS
Titel: DIFFERENT WORLDS
Spieldauer: 42:20 Minuten
VÖ: 13. Mai 2022
"An ability to do an activity or job well, especially because you have practiced it" – so kann man den Begriff und Bandnamen der hier behandelten 80s Hardrock/Melodic Rock Band SKILLS definieren. Dieser passt perfekt auf die Combo, für die das ungeliebte und oft überstrapazierte Prädikat All-Star-Band bzw. Supergroup ausnahmsweise mal verdient, passend und das "Experiment" gelungen ist.
Eingespielt und -gesungen haben das Debüt "Different Worlds" der brasilianische Sänger Renan Zonta (Electric Mob, Brother Against Brother), Gitarrist Brad Gillis (Night Ranger), Bassist Billy Sheehan (Mr. Big, The Winery Dogs, Sons Of Apollo) und Drummer David Huff (Giant).
Man hört und merkt den elf Kompositionen an, dass hier erfahrene, routinierte und versierte Musiker am Werk sind, die von ebenso geübten und fachkundigen Songwritern wie unter anderen Alessandro Del Vecchio, Renan Zonta, Martin Jepsen Andersen, Pete Alpenborg und Gui Oliver teilweise fantastische Songs zusammengezimmert bekommen haben.
Beispiele gefällig? Die Vorabsingle `Blame It On The Night` ebenso wie das hymnische `Writings On The Wall´ und das eher balladesk-majestätische `Show Me The Way´. Und mit dem grandiosen `Just When I Needed You´ folgt direkt die nächste Power-Ballade at her best.
Als weitere Glanzlichter zu erwähnen sind das ebenfalls vorab ausgekoppelte `Stop The World´ sowie der packende Ohrwurm `Need To Fall´. Den Vogel schießt aber das großartige `Losing The Track´ mit seinem unnachahmlichen und nicht mehr aus dem Kopf wollenden Mitsing-Chorus ab.
Fazit: rundum stimmige Platte ohne Durchhänger, mit hochklassigen Musikern und Klasse Songs.
Michael Gaspar vergibt 8,5 von 10 Punkten