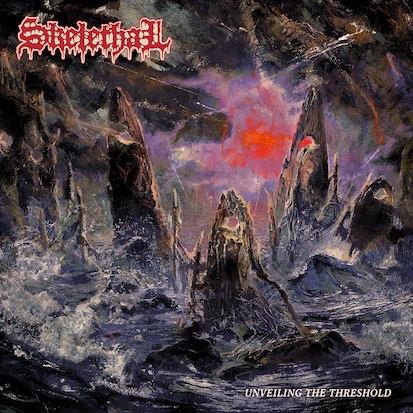 SKELETHAL
Titel: UNVEILING THE THRESHOLD
Label: HELLS HEADBANGERS RECORDS
Spieldauer: 37:39 Minuten
Sollten es SKELETHAL endlich schaffen? Sollten SKELETHAL die Band sein, die mich vom französischen Death Metal überzeugt? Bislang haben mich alle Bemühungen in diesem Bereich, egal ob von LOUDBLAST, MASSACRA oder auch ältere GOJIRA oder oder oder nämlich überhaupt nicht überzeugt. Und nein, ich habe keine Vorbehalte gegen die französische Metalszene. Im Gegenteil, die Kollegen von der schwarzen Zunft sind durchaus gut aufgestellt. Aber beim französischen Death Metal hat es mich nie gepackt. Und jetzt?
SKELETHAL können zumindest teilweise meine Vorbehalte entkräften. Sie schaffen eine famose oldschoolige Atmosphäre, ohne dass es aufgesetzt wirkt. Schweden aber auch an einigen Ecken Finnland aus den frühen Neunzigern lassen grüßen. Im Bermuda Dreieck CDC sprich CARNAGE – DISMEMBER – CONVULSE würde ich die Herrschaften mal akustisch verorten. Das Quartett aus Lille ist bereits seit 2012 auf den Beinen und veröffentlicht mit UNVEILING THE THRESHOLD den zweiten Longplayer auf dem renommierten Undergroundlabel HELLS HEADBANGERS RECORDS. Dort passen SKELETHAL auch absolut hin. Anspieltipps sind "Anthropomorphia", "Repulsive Recollections" und die beiden Abschlussklopper "Adorned with the Black Vertebra" und "Abyssal Church… The Portal Revealed". Im Gegensatz zu solch eher hippen Truppen wie LIK gehen SKELETHAL deutlich düsterer, sumpfiger und old-schooliger im Songaufbau und den Leads vor. Das Growling kommt noch aus der Gruft und drumtechnisch gibts hier teilweise feinste Mammut-Blastbeats zu hören.
'Feine Nüsschen' würde die Frau Kommissar 00 Schneider wohl frohlocken und die gibts bei SKELETHAL reichlich. Ein kurzweiliges Frühneunziger Rip-Off mit eigener Note! Bien joué!
Ingo Holzhäuser vergibt 8 von 10 Punkten