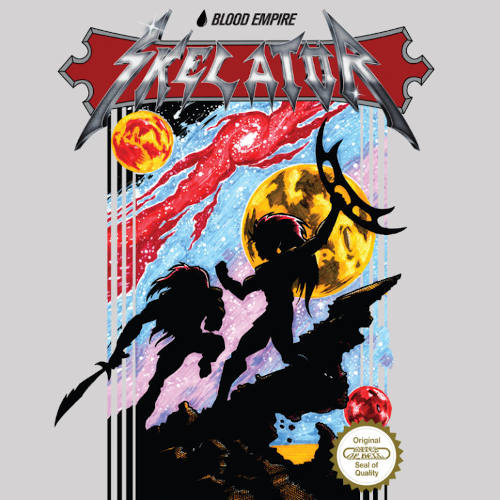 SKELATOR
Titel: BLOOD EMPIRE
Spieldauer: 21:47 Minuten
VÖ: 30. September 2022
Es gibt ja so einige Bands in diesem, unserem Metal Universum, welche man entweder liebt oder hasst. Cirith Ungol oder Manilla Road fallen beispielsweise in diese Kategorie.
Auch die aus den United States of A stammenden SKELATOR gehören in diese Kategorie. Ihre kauzige Mischung aus Epic, Traditional und Speed Metal in Kombination mit der, sagen wir mal "aussergewöhnlichen" Stimmlage von Jason Coude-Houston sorgen dafür, dass SKELATOR relativ eigenständig klingen. Und dies fernab des sogenannten Metal Mainstreams.
Ich persönlich gehöre zu den Freunden der Band und freue mich ebenso auf dieses neue Lebenszeichen der Jungs in Form der vorliegenden vier Track EP, auf der sie ihren persönlichen Stil konsequent weiter verfolgen. Besonders hervor heben unter diesen insgesamt gelungenen Tracks möchte ich dann aber doch das zwischen Galoppel Mid Tempo und Up Tempo wechselnde, jederzeit epische 'Good Day To Die' mit seinem melodischen Lead und den hymnischen Up Tempo Banger 'Bloodwine'.
Fans der Band können ungehört zugreifen und sollten sich nicht von dem Comic artigen Cover abschrecken lassen. Aber auch Freunde eigenständiger Metal Klänge fernab des Metal Mainstreams sollten mal ein Ohr riskieren. Ich warte jedenfalls schon gespannt auf einen hoffentlich bald folgenden Longplayer.
Ludwig Lücker vergibt 8,5 von 10 Punkten