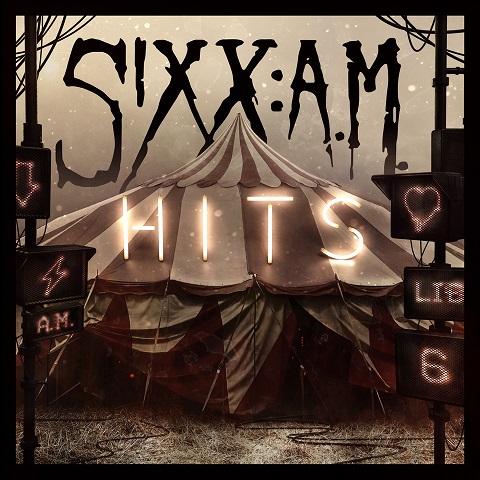 Label: BETTER NOISE MUSIC
Spieldauer: 76:49 Minuten
SIXX:A.M. ist eine amerikanische Hardrock-Band aus Los Angeles, Kalifornien, die 2007 gegründet wurde und bisher auf die Veröffentlichung von vier Studioalben und drei EPs zurückblickt. Der Name Sixx:A.M. setzt sich aus den Nachnamen ihrer Mitglieder Nikki Sixx (Bass), DJ Ashba (Gitarre) und James Michael (Vocals) zusammen. Nikki Sixx wurde in den 80ern als Gründungsmitglied von Mötley Crüe bekannt.
Die Jubiläumsscheibe "Hits" fast das Beste aus den fünf Studioalben "The Heroine Diaries Soundtrack" (2007), "This Is Gonna Hurt" (2011), "Modern Vintage" (2014), "Prayers For The Damned" und "Prayers For The Blessed" (beide 2016) zusammen.
Die vierzehn Best-Of-Tracks decken die erfolgreichsten und bekanntesten Stücke der Band wie 'Life Is Beautiful', 'This Is Gonna Hurt', 'Skin' sowie 'Maybe It's Time' und 'Lies Of The Beautiful People' ebenso ab wie alle Bandphasen und Outputs. Auch die Ausgewogenheit zwischen schnellen, rockigen und eher langsamen Songs ist gegeben.
Ergänzt wird das Ganze dann noch um drei neue Stücke sowie drei Bearbeitungen älterer Tracks. Der erste neue Song 'The First 21', ein eher bluesiges Stück mit typischem SIXX:A.M.-Chorus, gehört thematisch zum ebenfalls gerade erschienenen neuen Buch des Bassisten. Bei 'Penetrate' geht das Trio rockiger und recht gitarrenlastig zur Sache, während 'Waiting All My Life' eine eingängige AOR-Hymne geworden ist.
Zu den drei neuen Versionen bekannter Songs: die Piano-Ballade 'Skin' wird im Rock-Mix dargeboten, während das im Original rockige 'Life Is Beautiful (Piano-Vocal-Version)' den umgekehrten Weg zurücklegt und es sich bei 'Talk To Me (Radio Mix)' um einen eingängigen Non-Album-Track von 2019 handelt.
Fazit: "Hits" ist eine gelungene, abwechslungsreiche Best-Of-Sammlung, die sowohl für Fans der Band als auch für Neueinsteiger bestens geeignet ist!
Michael Gaspar vergibt 7,5 von 10 Punkten