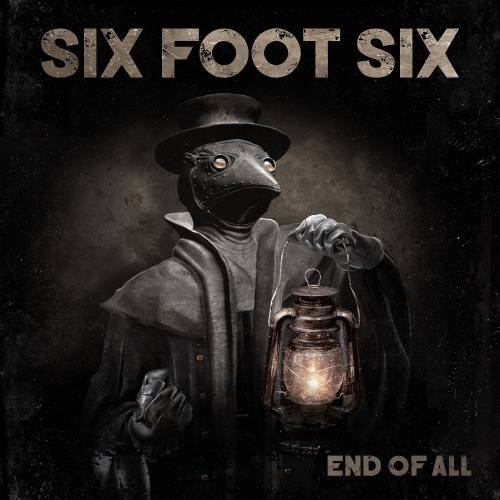 SIX FOOT SIX
Titel: END OF ALL
Spieldauer: 54:14 Minuten
Heiliges Reißbrett, SIX FOOT SIX, ein Satz mit X, das war wohl niX. Oder ist der Abumtitel 'End Of All' vielleicht nicht vollständig, sollte eigentlich end of all metal heißen? Als Persiflage auf Sabaton/Powerwolf-Schlager Metal würde das Ganze aber auch nicht gut funktionieren, dafür wird diese songschreiberische Simplizität mit zuviel Ernsthaftigkeit dargeboten.
Schier unendliche 55 Minuten lang wird auf dem zweiten Album der Band um ex-Falconer Sänger Kristoffer Göbel (ist der Name hier Programm?) ein wahrer Overkill an einfachsten Riffs und auch für einen lobotomierten Affen nachvollziehbaren Melodien sowie schmierigster Kirmes-Metal-Refrains kredenzt, dass es nur für den eingefleischten Hammerfall-Fanatiker halbwegs aushaltbar ist. Kleiner Unterschied, und somit 'originell' im Vergleich zu den dreist kopierten Vorbildern ist nur, dass manche Melodien einen leichten Schwenk ins Folkige nehmen. Macht das die Sache besser? Ich glaube Nein. Als Anspieltipp, der alle 'Trademarks' am perfektesten umsetzt, ist hier die HF-Kopie 'Blood Will Out' zu nennen. Wer diesen Song gehört hat, hat auch an dem Rest kein Interesse mehr.
Ich weiß, daß es da draußen ganz viele Anhänger dieser Art des Schlagermetals gibt, und gewiss wissen SIX FOOT SIX das auch. Genau für diese Klientel, den trocken gelaufenen Sabaton/Powerwolf/Hammerfall-Fan, wurde 'End Of All' nämlich konstruiert und mit einem anständig modernen Soundgewand auf den Markt geworfen. Ich bin ehrlich gespannt, ob diese Rechnung aufgeht. Bei mir jedenfalls nicht.
Dirk Eckhard vergibt 1 von 10 Punkten