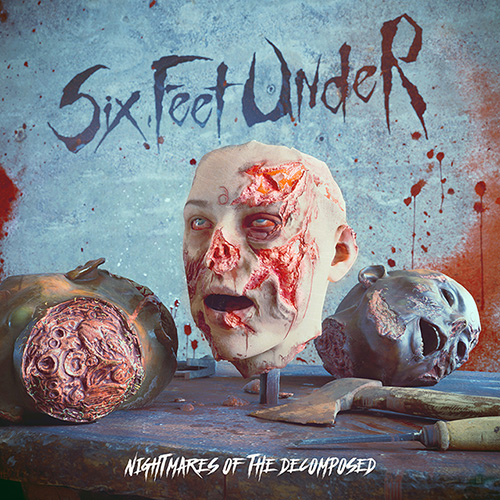 SIX FEET UNDER
Titel: NIGHTMARES OF THE DECOMPOSED
Spieldauer: 43:57 Minuten
Selten gab es so hitzige Diskussionen im Vorfeld einer Veröffentlichung wie im Falle "Nightmares Of The Decomposed", dabei hätte es so schön werden können. Immerhin wartet das Album mit einer Art Re-Union mit alt-Gitarrist Jack Owen auf, der neben Neuzugang Ray Suhy wieder die Sechssaiter-Position übernommen hat. Dennoch SIX FEET UNDER Enthusiasten sind offenbar bitter enttäuscht.  Besonders Chris Barnes Gesangsleistung steht im Feuer der Dauerkritik und viele Fans weltweit zerreißen das Album geradezu, andere wiederum überschütten das neue Werk auf den sozialen Medien mit Likes und Herzchen. Also, was denn jetzt?
Der bereits ausgekoppelte Opener 'Amputator` ist ein ordentlich schneller, typischer Death Metal Track, der ein absolut anständiges Riff aufweist, wobei man den Kritikern aber leider Recht geben muss. Die Vocals sind wirklich alles andere als überzeugend, sondern "krähen" vor sich hin. Regelrecht schlimm wird es beim darauf folgenden Death'n Roll Stück 'Zodiac' wenn Barnes Stimme zum Teil so weit nach vorne gemischt wird, dass man meint man hätte es mit einer Karikatur zu tun, die krampfhaft knödelnd versucht böse zu klingen.
Grooviger Death'n Roll scheint ohnehin die bevorzugte Marschrichtung zu sein. Beim ebensolchen 'The Rotting' quiekt Barnes zwischendurch so Vorgartenzwergartig in den Song, dass mir die Worte fehlen. Es ist unfasslich und spottet jeder Beschreibung. 'Death Will Follow' haut in die gleiche Kerbe. Musikalisch ist das Songmaterial auch nicht wirklich der Bringer. Bei mir bleibt jedenfalls nichts von diesen seltsamen Death'n Roll Nummern hängen. zu uninspiriert und beliebig klingt das Material in weiten Teilen. 'Blood Of The Zombies' ist mit seiner leichten Disharmonie wenigstens mal eine Abwechslung, verbleibt wie alles andere auch aber in einem langsamen bis höchstens Midtempo-Bereich. Bis auf den Anfangssong und den letzten Track 'Without Your Life', der überhaupt mal wieder nach Death Metal klingt aber leider auch nicht ohne das erbärmliche Quieken auskommt. … Bei dieser Leistung lautet mein Fazit:
Just Fillers, No Killers!!
Sven Bernhardt vergibt 4 von 10 Punkten