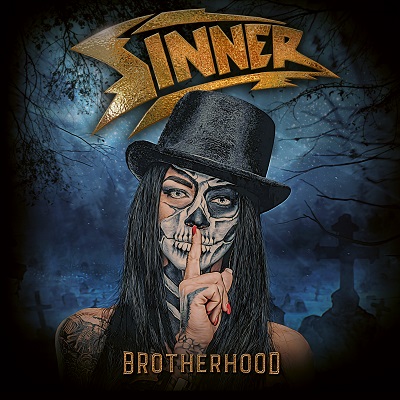 SINNER
Titel: BROTHERHOOD
Label: ATOMIC FIRE RECORDS
Spieldauer: 56:43 Minuten
VÖ: 15. Juli 2022
Über 40 Jahre SINNER, 25 Jahre Primal Fear und seit 2010 musikalische Leitung und Creative Director der "Rock Meets Classic" Reihe – Sänger/Bassist Mat Sinner darf man gut und gerne als Urgestein und Eckpfeiler der deutschen Metal- und Rockszene bezeichnen.
Und trotz einiger gesundheitlicher Probleme des Masterminds kommt hier, soviel sei gerne vorweggenommen, ein fantastisches, unterhaltsames neues Album namens "Brotherhood" um die Ecke, dessen zwölf neue Songs härter und metallischer als die Vorgänger tönen und deren Riffs aus allen Rohren feuern.
Melodische Twin-Leads, eingängige Refrains, gute Songs mit dezenten Orchestrierungen, die nebenbei bemerkt von Ronnie Romero (Rainbow) stammen, und einprägsamen Hooks, packende Gitarrensoli nicht zu vergessen, sowie die Unterstützung von Keyboarder Oliver Palotai (Kamelot) und weitere gelungene Gastbeiträge von Ralf Scheepers (Primal Fear), Tom S. Englund (Evergrey) und Dave Ingram ­(Benediction) tun ihr Übriges zu einer rundum überzeugenden Scheibe.
Bereits das bockstarke Anfangsdoppel aus den beiden Krachern `Bulletproof´ und dem unmissverständlichen Stampfer `We Came To Rock´ macht die Marschrichtung klar und führt beim geneigten Fan zu Nackenbewegungen und Dauergrinsen.
Der hymnisch-melodische Titelsong und der groovende Midtempo-Brecher `Refuse To Surrender´ stehen dem in Nichts nach, bevor mit `The Last Generation´ das große Highlight der Platte folgt. Die Kollaboration mit Evergrey-Fronter Tom S. Englund und Keyboarder Oliver Palotai (Kamelot) wird so zur dunkel-bedrohlichen Ode und zur beinahe siebeneinhaltminütigen Warnung an die Menschheit.
Die heavy-eingängige Nummer `Gravity´, bei der auch Sängerin Giorgia Colleluori endlich ihre Meriten bekommt, ist ein weiteres Glanzlicht mit tollem Chorus. Und so könnte man eigentlich jeden Song nennen, aber es seien nur noch das intensiv-ausdrucksstarke `My Scars´ und die gelungene Ballade `40 Days 40 Nights´ herausgehoben.
Den Bonustrack `When You Were Young´ (The Killers-Cover) hätte ich persönlich nicht gebraucht, zeigt aber mal eine andere Seite der Band und wird vor allem durch Sinner´s Organ dann doch einzigartig.
Michael Gaspar vergibt 9 von 10 Punkten