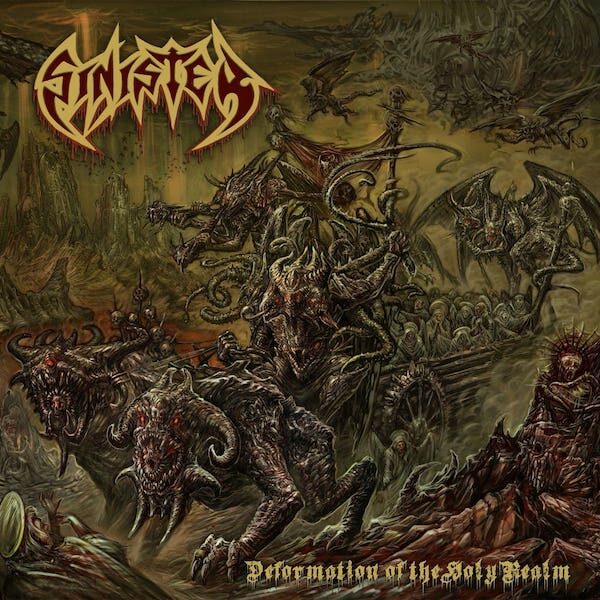 SINISTER
Titel: DEFORMATION OF THE HOLY REALM
Spieldauer: 45:18 Minuten
SINISTER waren die Death Metal Hoffnung unserer Nachbarn und hatten zu Beginn ihrer mittlerweile 30jährigen Karriere mit "Cross the Styx" einen regelrechten Hit im Death Metal Sektor. Drei Jahrzehnte später und dreizehn Alben später erscheint "Deformation Of The Holy Realm". Ok, überspringen wir einfach das finstere Intro:
Das Titelstück von Album Numero vierzehn der Dutch-Connection eröffnet mit Blastriffs, die leider irgendwie verpuffen und recht uninspiriert wirken. Vielleicht ist es dem Umstand geschuldet, das SINISTER hier versuchen, trotz der Geschwindigkeit zugänglich zu bleiben. Damit ist aber schon die Richtung des Outputs vorgezeichnet, denn in ähnlichem Speed geht 'Apostles Of The Weak' ans Werk. Immerhin sorgen einige interessante Parts und eingestreute Choräle für coole Momente. Natürlich ist nicht alles schlecht und die Herren wären nicht immer noch auf der Bildfläche, wenn sie nicht auch ganz coole Tracks und Riffs, wie im Falle des leicht vertrackten 'Oasis of Piece' oder bei 'Scourged By Demons' dabei hätten.
Aber ganz ehrlich, das Album packt mich nur in wenigen Momenten, egal ob Anfang, Mitte oder Ende. Mit dem letzten Song 'The Omnious Truth' ('Entering The Underworld' ist ohnehin nur ein Outro) schaffen SINISTER ein leicht psychotisches Element das aber im zwischenzeitlichen Ultrageknüppel verloren geht. Irgendwie bleiben die Songs auf einem Level: ein gleichbleibend heftiger aber nicht wirklich aufregender Death-Teppich. Auch die gekotzten "Badewannenabfluss-Vocals", zum Teil doppelstimmig, bewegen sich immerzu auf der absolut selben Ebene. So gesehen passt also alles zusammen.
Sven Bernhardt vergibt 6 von 10 Punkten