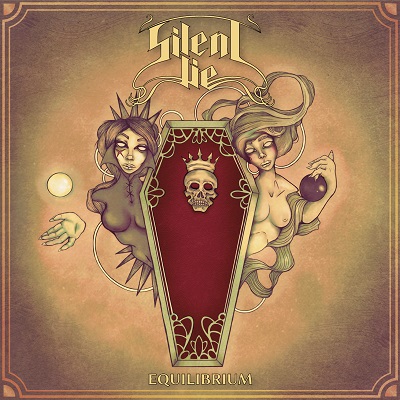 SILENTLIE
Titel: EQUILIBRIUM
Spieldauer: 43:20 Minuten
VÖ: 30. September 2022
"Equilibrium" ist der Longplay-Zweitling der italienischen Melancholic Metaller SILENTLIE und folgt damit auf das 2015er Debüt "Layer Of Nothing".
Das Quartett um Giorgia Sacco Taz mischt in Teilen beinahe doomige Sabbath Riffs mit catchy Melodien und den weiblichen Vocals. Orgelparts, Gothic Elemente und elektronische Facetten sorgen zusätzlich für Abwechslung und erzeugen eine dunkle Atmosphäre.
Auch die im Infotext genannte und auf den ersten Blick etwas weit hergeholte Ghost-Referenz hat durchaus ihre Berechtigung, wenn man sich beispielhaft einen Song wie das treibend-packende `Something To Remember´ anhört.
SILENTLIE bieten definitiv keinen typischen female fronted Gothic oder gar Symphonic Sound, bei einigen Songs ist auf den ersten (und nicht nur den) Höreindruck gar nicht zu erkennen, dass es sich hier um eine Sängerin handelt.
So auch in weiten Teilen des grandiosen, eher modern-elektronischen Titelsongs. Die übrigen Stücke bieten ausreichend Abwechslung und Dynamik wie beispielsweise zwischen einer emotionalen Ballade wie `The One Who Disappears´, in der das kontroverse Thema Selbstmord behandelt wird, und einer Uptempo-Nummer wie `Hysteria´.
Und doch gelingt es dem Dark Metal des Triester Vierers nicht, mich komplett zu überzeugen, denn zu wenig Biss haben teilweise die Gitarren, zu austauschbar sind einige der zehn neuen Songs, zu selten die erwähnten, echten Highlights.
Michael Gaspar vergibt 6,5 von 10 Punkten