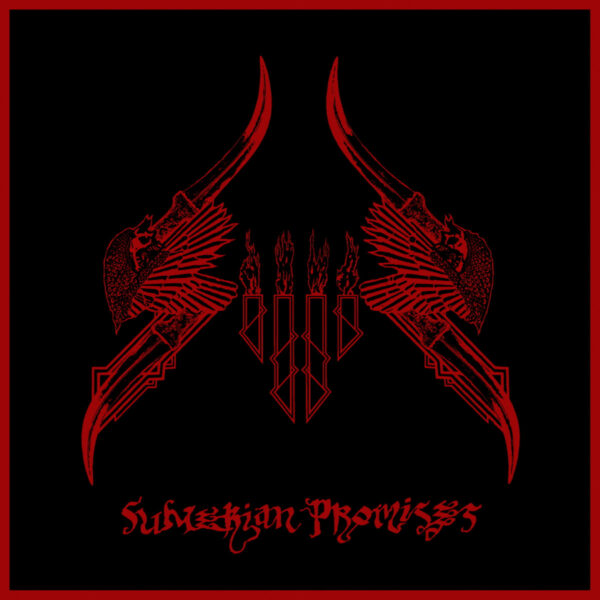 SIJJIN
Titel: SUMERIAN PROMISES
Spieldauer: 45:44 Minuten
Aus der Asche der Berliner Occult Death Metal Institution Necros Christos gingen 2019 SIJJIN hervor. Nach dem Demo "Angel of The Eastern Gate" liegt mit "Sumerian Promises" nun der unheilvolle Debütant auf Platte vor. Und unheilvoll meine ich im besten Sinne, denn ich fühlte mich irgendwie so wie damals ich zum ersten Mal Morbid Angels "Altars of Madness" auflegte. 
SIJJIN offenbaren uns damit einen blasphemischen und düsteren Brocken an altem Todesblei im besten Stil der ersten beiden Morbid Angel Alben (damit meine ich im wahrsten Sinne die beiden 'A' Alben…). Teils vertrackter, teils straight forward gespielter Death Metal mit ausdrucksstarkem und akzentuiertem Gesang. Das Album klingt wie aus einem Guss. Aber was die Kompositionen von SIJJIN auflockert sind die deutlichen Thrash Einflüsse. Diese verhindern somit einen reinen Rip-off der krankhaften Engelein aus Tampa. Dazu kommt, dass man durchaus archaischer vorgeht, was die Tracks gleichwohl etwas einfacher macht ohne die musikalischen Fähigkeiten der baskischen/deutschen Protagonisten hier in Frage stellen zu wollen.
'Those wait to enter' oder auch 'Angel of The Eastern Gate' sind solche Signature Tracks. Kräftig, schwarz und packend. Untermalt mit orientalischen Soundtupfern aus dem Land zwischen Euphrat und Tigris. Hier darf man die Vergangenheit von Necros Christos im aktuellen Klangkosmos auch immer mal wieder entdecken. 
Insgesamt eine gute Platte obgleich man am harten Vorbild Morbid Angel eines ganz deutlich sieht: die Amis waren ihrer Zeit weit voraus, denn obwohl SIJJIN einen tollen Job machen, kommen sie nie an die Originale heran. Und auch den Spannungsbogen, den Necros Christos in ihren Veröffentlichungen aufrecht erhalten konnten, glückt hier noch nicht durchgängig. Dennoch gilt: reinhören!
Ingo Holzhäuser vergibt 7,5 von 10 Punkten