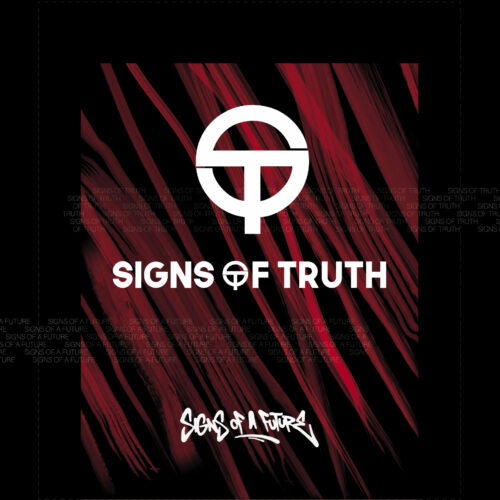 SIGNS OF TRUTH
Titel: SIGNS OF A FUTURE
Spieldauer: 48:39 Minuten
"Signs Of A Future" ist das Debüt der Gruppe SIGNS OF TRUTH aus Uppsala. Die Schweden spielen traditionellen, klassischen Hardrock, der in den härteren Momenten auch mal in Richtung Melodic Metal schielt. Die angegebenen Einflüsse von Thrash, Progressive, Doom bis zu Glam Metal kann man nur teilweise bzw. höchsten rudimentär entdecken.
Überwiegend bieten die Songs der 2006 gegründeten Band wie der gute Opener ´Eye For An Eye´ im Midtempo angesiedelten, angenehmen aber nicht überragenden, melodischen Hardrock. Ausbrüche wie beim gelungenen ´Play That Game´ sind da eher die Ausnahme.
Beim metallischeren ´Kiss Of Death´ übernimmt Nalle Påhlsson (Therion, Treat) den Bass und Pontus Norgren (Hammerfall, Talisman) liefert das Gitarrensolo. Das gradlinige, eingängige ´I´ weiß ebenso zu gefallen wie die ruhige, eindringliche Pianoballade ´Peanut´ und das cool-rotzige, rhythmisch interessante ´Stockade´.
Am Schluss der gutklassigen Scheibe stehen zwei Stücke, die stilistisch ein wenig aus dem Rahmen fallen. Der Siebenminüter ´Psychedelic Dream´ offenbart ein Faible für progressiv-bluesige Gitarrenkunst, bevor das abschließende ´Now!´ in die Elektro-/Industrial-Schublade gehört und – allerdings kombiniert mit hardrockiger Eingängigkeit, was eine seltsame aber auch faszinierende Mischung ergibt – ebenso gut auch von Die Krupps oder Emigrate stammen könnte.
Insgesamt ein gutes Debüt, das großes Potential offenbart, dem aber der eine oder andere so richtig griffige Kracher und so ein wenig die durchgängige Identität und das gewisse Extra fehlt.
Michael Gaspar vergibt 7 von 10 Punkten