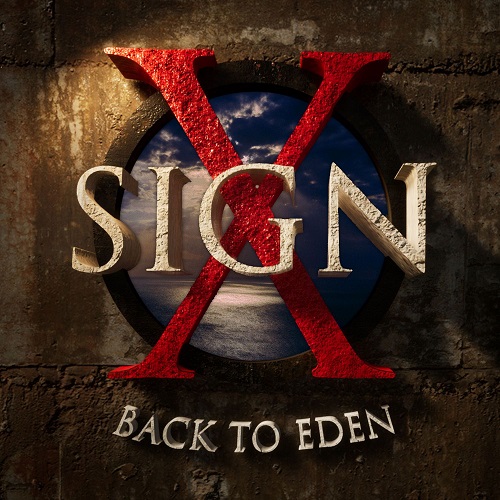 SIGN X
Titel: BACK TO EDEN
Spieldauer: 45:44 Minuten
VÖ: 18. März 2022
Die Melodic Metaller/Classic Rocker SIGN X sind aus der Hamburger Kultband Châlice hervorgegangen. Seit 2017 geht es unter neuem Namen und verstärkt durch Keyboarder Michel Jotzer, Keyboarder und Produzent Andy Horn und den talentierten Sänger Sebastian Zierof (bekannt aus dem Lindenberg-Erfolgsmusical "Hinterm Horizont') zur Sache.
Nun erscheint mit "Back To Eden" der Zweitling nach "Like A Fire" (2019) und bietet eingängigen Stoff irgendwo zwischen Melodic Metal und Hardrock. Die zehn Kompositionen können samt und sonders überzeugen, wobei Härtegrad und Geschwindigkeit teilweise erheblich variieren.
Egal, ob der packende Titelsong und das mitreißende `Frozen Hell` oder eher eingängige, AOR-lastigere Hymnen wie `Life Goes On` und `Into The Unknown`, man fühlt sich einfach großartig unterhalten. Für einen absoluten Glanzpunkt sorgt dann allerdings die Single `Forever King`, bei der die die Band zusätzliche Unterstützung durch Sänger Ronny Munroe (Ex-Metal Church, TSO) erhält.
Die Ballade `3 Seconds` weiß in der abschließenden Pianoversion noch ein wenig mehr zu gefallen, da diese besser zu deren theatralisch-emotionalem Charakter passt. Davor sorgt noch ein Doppelpack für Abwechslung und vielseitigen Hörgenuss.
Während die rasend schnelle, wütende Attacke `World On Fire` teilweise beinahe thrashig daherkommt berührt die folgende akustische Ballade `Jump 'n' Run` mit ihrem nachdenklichen, eindringlichen Text und der gefühlvollen Darbietung.
Unter dem Strich ein großartiger Dreher, der die Messlatte für fantastischen Hardrock/Melodic nicht nur aus deutschen Landen verdammt hoch legt!
Michael Gaspar vergibt 8,5 von 10 Punkten