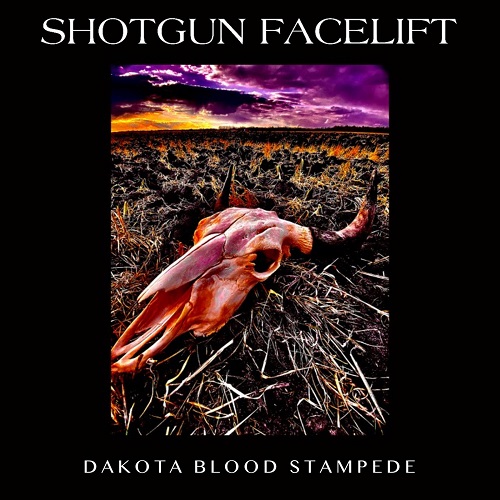 SHOTGUN FACELIFT
Titel: DAKOTA BLOOD STAMPEDE
Spieldauer: 43:10 Minuten
Inspiriert von der New Wave of American Heavy Metal Anfang der 2000er Jahre wurde die US-amerikanische Metalband SHOTGUN FACELIFT 2012 in North Dakota gegründet. John Huber (Vocals), Damian Goulet (Leadgitarre), Matt Person (Rhythmusgitarre), Jody Smith (Drums) und Curt DeCamp (Bass) haben definitiv einen Preis für einen der originellsten Bandnamen der letzten Zeit verdient und legen mit "Dakota Blood Stampede" ihren Full-Length-Zweitling vor.
Der Stil des Fünfers ist dabei gekennzeichnet durch massives Riffing und viel Kraft und Energie. Gitarren und Rhythmussektion erzeugen einen mächtigen Soundwall und treffen auf aggressive, krächzende Vocals. Die präzisen Riffs und heiseren Vocals des Openers "I Am" haben sogar etwas Death Metal-artiges, bevor der Track auf einen ruhigen, schleppenden Schluss zusteuert.
Im Folgenden treffen weiterhin Energie und Groove und hohe Geschwindigkeit auf die beschriebene Soundwand und Vocals, die mich an Jan-Chris de Koiejer (Gorefest) erinnern. Als Anspieltipps für diesen zerstörerischen Death'n'Roll-Sound seien vor allem die beiden Vorabsingles 'Bury Me' und '5 Dollar Bastard' sowie der grandiose Titelsong genannt. Heulen die Gitarren mal etwas mehr auf, so kommen einem auch Machine Head und Lamb Of God in den Sinn.
Da es im Folgenden doch etwas melodischer, eingängiger und mit noch mehr Groove, aber nicht minder kraftvoll und energetisch zur Sache geht, lassen Tracks wie das ebenfalls vorab ausgekoppelte 'Suicide Eyes', 'Open Place To Bleed' und das abschließende 'From The Dirt' dann eher an "modernere" Acts wie Parkway Drive und Five Finger Death Punch denken.
Gute Scheibe, die einem gnadenlos keine Zeit zum Luftholen lässt, durch die etwas eintönigen Vocals auf die Dauer aber etwas anstrengend wird und einem die haufenweise vorhandenen Riffmonster verleiden kann und in Teilen etwas mehr Abwechslung und Eingängigkeit vertragen könnte.
Michael Gaspar vergibt 7 von 10 Punkten