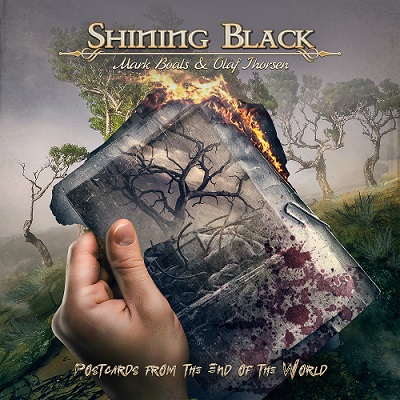 SHINING BLACK – BOALS & THORSEN
Titel: POSTCARDS FROM THE END OF THE WORLD
Spieldauer: 49:31 Minuten
VÖ: 18. März 2022
Was ist eigentlich das Gegenteil von einem "Grower", einem Album, welches mit mehr und mehr Durchläufen immer besser wird und immer neue Facetten offenbart: "Shrinker"? "Downsizer"? Im Fall von "Postcards From The End Of The World" geht es mir jedenfalls so. Wird also höchste Zeit für das Review.
Wie der Namenszusatz des Projekts SHINING BLACK – BOALS & THORSEN bereits deutlich macht, bilden Sänger Mark Boals (Yngwie Malmsteen, Ring Of Fire, Royal Hunt) und Gitarrist Olaf Thorsen (Labyrinth, Vision Divine) das Grundgerüst des Fünfers. Komplettiert wird das Lineup durch Oleg Smirnoff an Keyboards & Piano, Nik Mazzucconi (Bass) und Drummer Matt Peruzzi.
Das Label Melodic Metal ist hochverdient, in vielen Momenten wird hier sogar eher in Richtung US Power Metal, in weiteren in Richtung Hardrock tendiert. Das alles dargeboten und interpretiert von den großartigen musikalischen und songwriterischen Fähigkeiten aller Beteiligten.
Das machen direkt der grandiose Titelsong und die folgende, leicht balladeske Hymne `Higher Than The World` mehr als deutlich. Getragene bzw. im Midtempo angesiedelte Stücke wie `We Are Death Angels` oder `Like Leaves in November` können da in Sachen Power und Eingängigkeit nicht ganz mithalten.
Mit zunehmender Albumdauer lässt der SHINING BLACK Zweitling zudem die ein oder andere Variation vermissen. Ein Eindruck, der sich mit weiteren Durchläufen verfestigt und die damit verbundenen Abnutzungserscheinungen nochmals verstärkt. Zudem geht "Postcards From The End Of The World" ab, woran es oft bei Projekten dieser Art hapert, nämlich eine noch purere, authentischere und hörbare Form von Emotion und Seele.
Rein musikalisch betrachtet ist alles im grünen Bereich und dies Jammern auf hohem Niveau, was mit weiteren großartigen Anspieltipps belegt werden soll. Da ist zum einen das eingängige `Summer Solstice Under Delphi´s Sky` mit seinem Mega-Chorus, die Power Metal Granate `A Hundred Thousand Shades Of Black` und das ultraschnelle `Mirror Of Time` mit seinen aberwitzigen Drumparts und schickem Refrain.
Michael Gaspar vergibt 7 von 10 Punkten