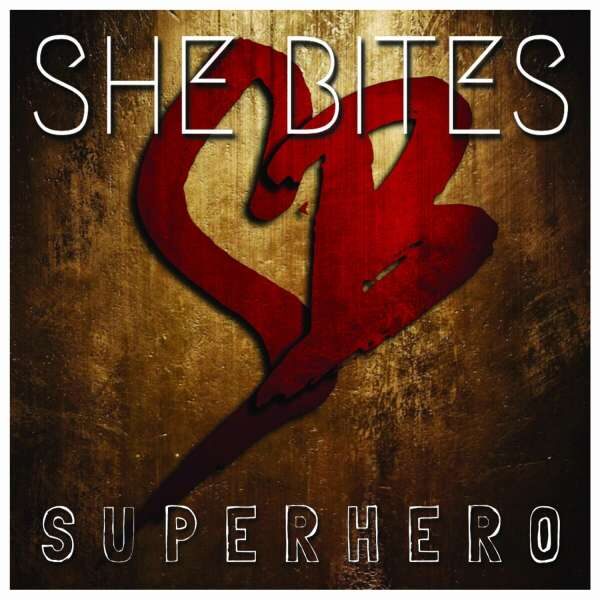 SHE BITES
Titel: SUPER HERO
Spieldauer: 46:57 Minuten
VÖ: 22. Juli 2022
Die deutschen Hardrocker SHE BITES melden sich zwei Jahre nach ihrem Debüt "Joyride" mit dem Zweitwerk SUPER HERO lautstark, melodisch und überzeugend zurück und präsentieren mitreißende Tracks mit Sommerfeeling für Fans von Journey, Survivor und FM.
Gitarrist Lars König (Lioncage, ex.Skyline) schrieb die zwölf neuen Songs und arrangierte diese gemeinsam mit Drummer Carsten Kohl (Three Wishes). Die neu hinzugestoßene Hamburger Sängerin Marion Welch steuert ihre großartige, soulig-rockende Stimme bei. Arvid Lucas (Lioncage) am Bass komplettiert das "Super Hero" Lineup.
Der Opener `Eye of the Storm´ zeigt SHE BITES melodisch rockend und eine Frontfrau irgendwo zwischen Tina Turner, Rockröhre und Skunk Anansie, bevor es mit den folgenden Titeln `Little Song´ und `Hunter´ etwas gemäßigter zu Werke geht.
Mir persönlich wissen die etwas flotteren, wilderen Stücke wie `Running´ und `Crazy´ am besten zu gefallen. Zudem fallen einige ungewöhnliche Harmonien und viele packende Melodien sowie energetische, eingängige Refrains ins Auge. Als Beispiel sei hier das grandiose `Holy Ground´ genannt.
Die emotionale, countryartige Ballade `True Love` ist eine Kollaboration mit Dan Reed (Dan Reed Network) und ein weiteres Highlight der Scheibe. Für ebenfalls ruhigere, ebenso gelungene Töne sorgen das folgende `Ghost´ sowie das mit mehrstimmigen Gesängen glänzende `Out In The Open´.
Nicht alle Tracks zeigen ihre Superkräfte unmittelbar und mit voller Wucht und setzen sich unmittelbar in Gehirn- und Gehörwindungen fest, aber da es auch keine wirklichen Ausfälle zu verzeichnen gibt, ist der Superheld auf einem guten Weg und ein mehr als solides, fettes Album für Melodic Rock Fans geworden.
Michael Gaspar vergibt 7,5 von 10 Punkten