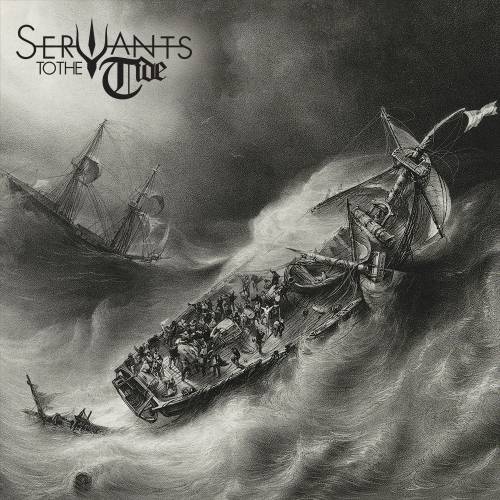 SERVANTS TO THE TIDE
Titel: SERVANTS TO THE TIDE
Spieldauer: 34:05 Minuten
Die Truppe von der Waterkant taucht hier so mir nichts dir nichts aus dem Untergrund auf und landet (fast) einen Überraschungscoup. Wer sich nämlich vorstellen kann, auf eine Mischung aus Atlantean Kodex und Solstice ab zu fahren – und ich wette das können eine Menge Metalheads, weibliche inbegriffen, man muss ja vorsichtig formulieren -, der ist bei dem Trio namens SERVANTS TO THE TIDE genau richtig.
Die Jungs kommen zwar nicht zu einhundert Prozent an die genannten Koryphäen heran, kratzen aber schon mächtig an deren Sesseln. Die Truppe um Multiinstrumentalist Leonid Rubinstein, der auch hauptverantwortlich für die Mucke zeichnet bietet nämlich alles was der geneigte Epic Metaller oder auch Epic Doomer benötigt; fette Riffs, hymnische Momente und erhabene instrumentale Parts zeichnen genau die Stimmung, die passenderweise auf dem Cover dargeboten wird.
Dazu kommen dann noch Tracks wie das von einem schweren, schleppenden Eröffnungsriff geleitete 'A Wayward Son's Return', der epische Mid Tempo Banger 'Your Son Will Never Shine For Me' oder das hymnische 'On March And Bones (The Face Of Black Palmyra)'. Mein persönlicher Favorite ist allerdings das abwechslungsreiche 'North Sea', welches eine ideale Kombination von Kodex und Dark Forest darstellt.
Die Produktion ist zwar etwas undergroundig und könnte ne Portion mehr Schmackes vertragen, geht aber völlig in Ordnung. Das schreit nach einem Vinylkauf und lässt für den deutschen Epic Bereich weiter hoffen.
Ludwig Lücker vergibt 8 von 10 Punkten