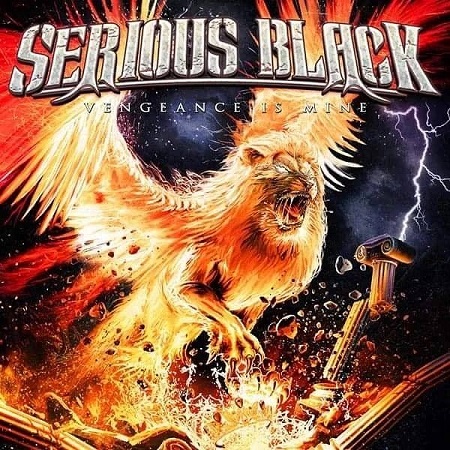 SERIOUS BLACK
Titel: VENGEANCE IS MINE
Spieldauer: 52:41 Minuten
VÖ: 25. Februar 2022
Mitten im Songwriting für die sechste Studioscheibe "Vengeance Is Mine" musste die internationale Power-Metal-Formation um Bassist und Gründer Mario Lochert sowie Gitarrist Dominik Sebastian den Ausstieg von Sänger Urban Breed verkraften.
Doch SERIOUS BLACK ließen sich nicht unterkriegen, stellten unter Mithilfe des befreundeten Sängers Henning Basse (Ex-Metalium, Ex-Firewind, Ex-Brainstorm) und des griechischen Multiinstrumentalisten Bob Katsionis (Ex-Firewind, Outloud) das neue Material fertig und fanden mit dem Serben Mikola Mijić einen mehr als geeigneten Nachfolger für den verwaisten Platz am Mikro.
Und so avanciert "Vengeance Is Mine" zu einem kraftstrotzenden, höchst melodischen und kurzweiligen Power Metal Album. Das treibende `Rock `With Us Tonight` ist der perfekte Opener und das folgende `Out Of The Ashes` direkt der erste eingängige Volltreffer mit fantastischem Chorus.
Es folgen weitere gradlinige Powermetaltracks mit Ohrwurmgarantie wie das mit teilweise italienisch-sprachigem, schmissigem Refrain glänzende `Senso Della Vita`, das fesselnde `Queen Of Lies` und das abschließende `Alea Iacta Est`.
Aber auch rifflastigere Tracks wie das dunkel-bedrohliche `Soul Devider` oder "softere" Kompositionen mit mehr Synthie-Einsatz wie das grandiose `Tonight I'm Ready To Fight` und das eingängige `Album Of Our Live` wissen zu überzeugen und gefallen.
Auch das eher im schreitenden Midtempo angesiedelte `Soldiers Of Eternal Light` überzeugt mit geiler Hook und fantastischem Chorus. Und spätestens, wenn die episch-hymnische Ballade `Ray Of Light` mit grimmigen Screams/Growls aufwartet, ist die Stiftung Musiktext beinahe wunschlos glücklich und ein straighter, gelungener Silberling perfekt.
Michael Gaspar vergibt 8 von 10 Punkten