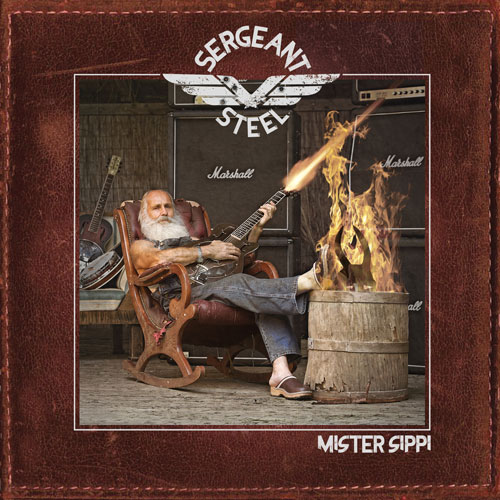 SERGEANT STEEL
Titel: MISTER SIPPI
Spieldauer: 41:38 Minuten
VÖ: 30. Juni 2023
Ist es ein Vogel? Ist es ein Flugzeug? Nein! Es ist Hard Rock aus Österreich!
Die Überflieger SERGEANT STEEL veröffentlichen am 30. Juni 2023 ihr bisher fünftes Album mit dem schönen Titel "Mister Sippi". Das Album enthält 10 brandneue Songs plus den Bonustrack `Cry out your heart` vom Album "Men on a Mission" in Akustikversion.
Die sechs Jungs liefern auf ihrer neuen Scheibe gewohnt knalligen Hard Rock wie man in gern hat und auch etwas Schmalz darf im Dunstkreis von Haarspray, Jeans und Boots natürlich nicht fehlen. Bereits der Opener `Down to Mississippi` stimmt perfekt ein auf gut investierte 40 Minuten. Kein Wunder: ist dieser Song doch zusammen mit dem dritten Titel `Mama didn`t raise a Fool` auf einem Roadtrip durch den Süden Amerikas entstanden. Diese Färbung tut dem Album mehr als gut und der Song `Mama didn`t raise a Fool`, welcher am 07. April 2023 ausgekoppelt wurde, ist schon jetzt mein Lieblingssong der Scheibe. Das Gesamtkunstwerk `Mister Sippi` macht Lust auf mehr, auf Spaß und gute Laune, auf Lagerfeuer und Festival, auf springen und mitsingen. Dies wird bereits mit der ersten Auskopplung `Please Me Tease Me` sehr deutlich. Mit der Ballade `My Girl` an neunter Stelle sieht man dann schon förmlich kuschelnde Pärchen und die Feuerzeuge, oder heute wohl eher die Handys, vor der Bühne leuchten.
Die humorvollen Österreicher, die sich bereits mit Größen wie The Darkness, Europe, Scorpions und den Hollywood Vampires die Bühne teilen durften und gerne mal mit Bon Jovi, Cinderella, den Gunners oder Molly Hattchet verglichen werden, liefern auch auf dem neuen, diesmal selbst und alleinig gemasterten, Album Qualität ab die auf große Bühnen möchte und das auch verdient. Also poliert Eure Tanzschuhe, toupiert die Haare, dreht die Anlage auf und genießt glamigen Hard Rock der 80er Masterclass mit SERGEANT STEEL. They will `Rock Your Pants Off`!
Judith Kroll vergibt 8 von 10 Punkten