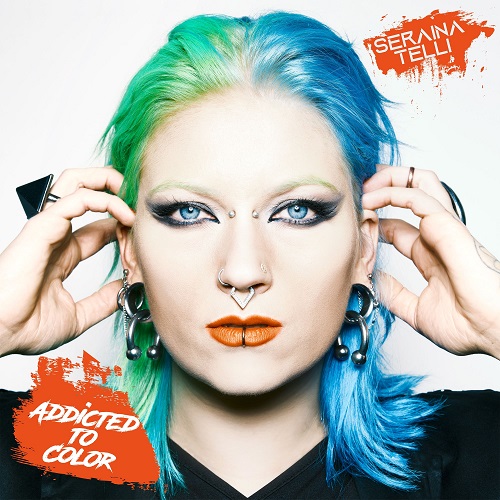 SERAINA TELLI
Titel: ADDICTED TO COLOR
Label: METALVILLE RECORDS
Spieldauer: 45:16 Minuten
VÖ: 18. August 2023
Das musikalische Multitalent SERAINA TELLI wurde als Frontfrau der Schweizer Metallerinnen Burning Witches bekannt und konnte mit ihrem letztjährigen Solodebüt "Simple Talk" erste Achtungserfolge, so Europatourneen mit CoreLeoni und The New Roses sowie den zweiten Platz in der Schweizer Hitparade, erringen.
Nun steht also das Zweitwerk vor der Tür, welches passend zur bunten Komponistin und Sängerin den Titel "Addicted To Color" trägt und erneut frischen, eingängigen Powerrock und das beeindruckende, gesangliche Powerhouse hinterm Mikro zu bieten hat.
Vielleicht fehlt der facettenreichen Künstlerin mit der großartigen stimmlichen Power nur noch die eine Hitsingle zum Durchbruch?! Stücke wie der dynamische Opener `Song For The Girls´ oder das nachdrückliche `Monkey & Zookeeper´ machen Spaß und packen textlich das eine oder andere heiße Eisen an, mit eindringlichen Botschaften und mutigen Aussagen zu Feminismus, Empowerment, den sozialen und anderen Medien, aber auch menschlichen Abgründen wie Drogenmissbrauch und toxische bzw. gescheiterte Beziehungskisten.
Auch der eingängige Titelsong, das flott-wilde `Hit Shit´ und das cool-bluesige ` Colors Of My Soul´ sowie die durchaus stadiontaugliche Hymne `Spaceman´ (4 Non Blondes Cover) überzeugen und die nachdenklich-energische Ballade `The Harder Way´ und der akustische, intensive Abschluss `All Your Tears´ sorgen für musikalische Abwechslung.
Fazit: Solide, durchaus abwechslungsreiche und kurzweilige Scheibe mit teilweise starken, unterhaltsamen Songs von einer talentierten Künstlerin und einen Tacken variabler, frischer und packender als das Debüt, aber wohl (noch) nicht der ganz große Wurf!
Michael Gaspar vergibt 7 von 10 Punkten