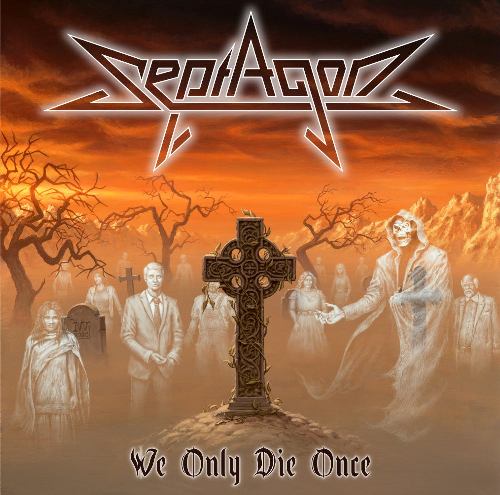 SEPTAGON
Titel: WE ONLY DIE ONCE
Spieldauer: 42:44 Minuten
Wenn bekanntermaßen das dritte Album einer Band das sogenannte "make it or break it" Album darstellt, dann muss man sich um die weitere Karriere der Thrasher von SEPTAGON wohl keine Sorgen mehr machen.
Die gut produzierte Scheibe ballert ordentlich aus den Boxen und ist keinen Deut schwächer, als deren große Vorbilder aus der amerikanischen Bay Area Szene. Die Riffs von Markus "Ulle" Ullrich und auch Stef sitzen, die Rhythmusfraktion Alexander und Daniel zimmern das Fundament hierzu und Sänger Markus Becker intoniert oben drauf die passenden Vocals. Das bockt ordentlich und man merkt förmlich das Engagement der Truppe, auch wenn SEPTAGON bei den meisten teilnehmenden Muckern wohl nicht die allererste Priorität genießt.
Gleich bei dem schnellen Eröffnungstrack 'Demon Divine' mit seinem Mid Tempo Refrain beginnen die eigenen Nackenmuskeln zu zucken. Auch das nach einem akustischen Beginn zu einem fetten Speedster mutierende 'How To Kill The Boogeyman' macht keine Gefangenen. Das schnelle hintereinander folgende Triple 'Head Held High', 'Gardens Of Madness" und 'Decision Day' – letzteres mit schönen melodischen Vocals versehen – sorgt endgültig dafür, dass die strapazierte Nackenmuskulatur ein Fall für den Chiropraktiker wird.
Das ist genau der richtige Thrash für old school Thrash Fans. Buy it!
Ludwig Lücker vergibt 9 von 10 Punkten