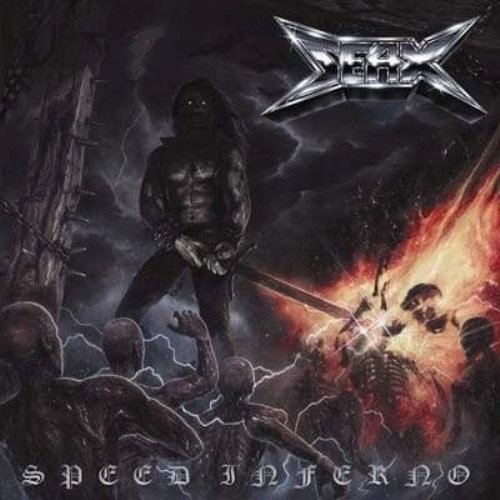 SEAX
Titel: SPEED INFERNO
Spieldauer: 37:10 Minuten
VÖ: 30. September 2022
Ihr steht auf klassischen Speed Metal? High Pitched Vocals turnen euch so richtig an?
Dann seid ihr bei den Massachusetts Speedstern namens SEAX genau richtig, denn die Band zeigt auch auf ihrem mittlerweile fünften Langeisen, was ne gepflegte Speed Metal Harke bedeutet.
Pfeilschnelle Riffs von Hel und Fife Samson, ein galoppierendes Rhythmusfundament von Derek Jay und Cristiano Lobo und über allem thronen die passenden Vocals von Carmine Blades, der aber häufiger von gut gesetzten Gang Shouts unterstützt und verstärkt wird.
Das kulminiert sich dann in Tracks wie den schnellen Bangern 'Speed Inferno', 'Radiation Overload' –mit einem fast melodischen Hauptriff-, 'Shock Combat' und 'Rising Evil'. Dass die Jungs auch zu anderen Facetten fähig sind beweisen sie mit  dem an Exciter gemahnenden 'Keepers Of The Blade', dem melodischen, im mittleren Tempo marschierenden 'Return To The Steel' und dem hymnisch beginnenden 'New World Crucifixion'.
Lange Rede, kurzer Sinn: Speed Metal Fans müssen hier einfach zugreifen und SEAX unterstützen.
Ludwig Lücker vergibt 9 von 10 Punkten