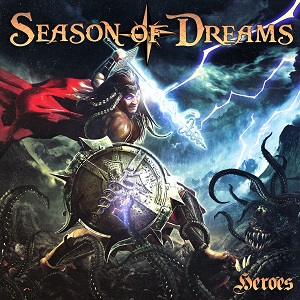 SEASON OF DREAMS
Titel: HEROES
Spieldauer: 55:07 Minuten
Die französisch-schwedische Heavy Metal Band SEASON OF DREAMS besteht im Wesentlichen aus Mastermind Jean-Michael Volz, der einen Großteil der Instrumente bedient, und Sänger/Keyboarder Johannes Nyberg. Auf dem zweiten Studioalbum "Heroes" kommen mit Jimmy Hedlund (Falconer), Nils Courbaron (Sirenia / T. A.N. K.), Olivier Lapauze (Heavenly), Mikael Dahl (Crystal Eyes), Emil Norberg (Persuader / Savage Circus) und Martin Floberg (Enbound) so einige prominente Gäste an den Leadgitarren hinzu. So ist dann die Gitarrenarbeit auch mit Abstand das Beste an dieser Platte, sowohl heavy als auch abwechslungsreich und mit vielen packenden Soli.
Doch leider sind die meisten Kompositionen nicht zwingend und bieten keine richtig packenden Refrains. Aber vor allem verleiden mir die über weite Strecken übertrieben theatralische und mit einem zumindest gewöhnungsbedürftigem Dauer-Vibrato ausgestattete Stimme und die fiepigen, hohen und leider beinahe allgegenwärtigen Synthies den weiteren Hörgenuss. Eigentlich kann man nur einzelne Songparts bedenkenlos empfehlen, beispielsweise den Anfang des Titelsongs vor dem Einsatz der unschönen Vocals oder aber 'Season Of Dreams' bis die nervigen Synthies wieder einen Strich durch die Rechnung machen. Andere Stücke wie das chaotische 'Light Comes From The Darkness' und die Ballade 'If I Die Tomorrow' sind, auch wenn das ein hartes Urteil ist, aufgrund der genannten Schwachstellen beinahe unhörbar.
Doch es gibt auch zwei richtig gute Songs, die mit fast "normalen" Vocals glänzen und ohne allzu präsente Keyboard-Klänge auskommen. Sowohl 'Princess Of The Dark' als auch 'Reign Of Wisdom' kommen zudem mit super-eingängigen Refrains und schicken Soli daher. Letzteres Stück beschert uns zudem textlich einen besonders schönen und "originellen" Chorus: "For the king, for the crown, for the mighty sword, I will ride my holy dragon".
Der Titelsong ist zwar wohlverdient dem medizinischen Personal, das sich weltweit mit aller Kraft gegen die Pandemie gestemmt hat, gewidmet. Die wahren "Helden" sind in diesem Fall aber die Hörer, die bis zum Ende durchgehalten und sich die ganze Scheibe durchgehört haben. Denn nur zwei gute Songs sind unter dem Strich einfach zu wenig.
Michael Gaspar vergibt 4 von 10 Punkten