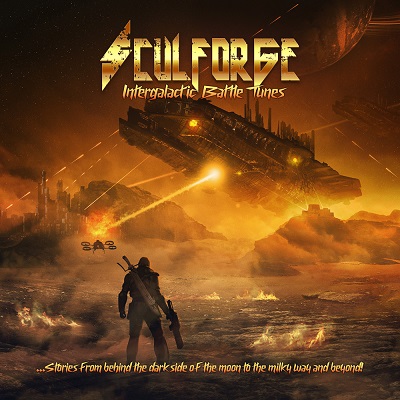 SCULFORGE
Titel: INTERGALATIC BATTLE TUNES
Spieldauer: 69:25 Minuten
VÖ: 23. Juni 2023
Die deutschen Highspeed Power Metaller SCULFORGE sind eine weitere Band, welche wir der schwierigen, langweiligen Pandemiezeit zu verdanken haben, und in der sich Polly McSculwood (Vocals/Gitarre) und Fabz McBlackscul (Gitarre) zusammenschlossen, um ihr gemeinsames musikalisches Abenteuer zu starten.
In Anlehnung an das Tabletop-Rollenspiel Warhammer 40k wurde eine epische Sci-Fi Geschichte und damit das perfekte Umfeld für pfeilschnelle Power Metal Songs geschaffen. Doch SCULFORGE mögen ihren Power Metal nicht nur flott, sondern vor allem geradlinig, simpel, ungeschliffen und garnieren ihn mit einigen Speed und Thrash Metal Elementen.
Die dreizehn Stücke auf "Intergalactic Battle Tunes (Stories from Behind The Dark Side Of The Moon To The Milky Way And Beyond)" – so der komplette Titel des Debütalbums – sind dann auch mal aggressiv, mal melodisch, enorm abwechslungsreich und dabei immer schnell und irgendwie roh und ein wenig dreckig, was den Dreher zu einem kurzweiligen, außergewöhnlichen Stück Musik macht.
Hörspiel-ähnliche Zwischenteile wie Durchsagen, Erzählparts oder Funksprüche erzählen die Geschichte und unterbrechen manchmal ein wenig den Fluss der Songs, was aufgrund der guten Verbindungen und der doch recht unterschiedlichen Tracks insgesamt nicht allzu stark ins Gewicht fällt.
Denn zu variantenreich und unterhaltsam sind Songs wie `For The Omnisavior´, `Spacehull´ und das hymnische `Follow Me´. Und mit `A New Hope´ ist auch ein kleines, episches, achteinhalbminütiges Meisterwerk mit Hammerchorus vertreten.
Noch dazu machen das mordsmäßig schnelle und eingängige `Glorious´ sowie die weitere Power Metal Hymne `The Escape´ "Intergalactic Battle Tunes" zu einem markigen, enorm kurzweiligen und nicht alltäglichen Debüt-Silberling.
Michael Gaspar vergibt 8 von 10 Punkten