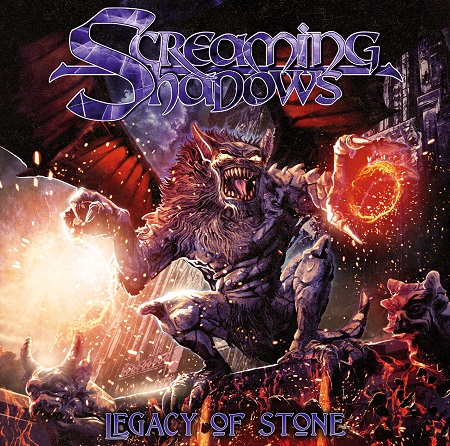 SCREAMING SHADOWS
Titel: LEGACY OF SHADOWS
Label: TARGET RECORDS (SPV)
Spieldauer: 42:38 Minuten
An der Grenze zwischen europäischem Power- und traditionellem Heavy Metal tummeln sich SCREAMING SHADOWS auf ihrem fünften Longplayer "Legacy Of Shadows". Bereits 1999 von Tygers Of Pan Tang-Gitarrist Francesco Marras gegründet, war es zehn Jahre ruhig um das italienische Quartett, dessen letzter Output "Night Keeper" (2011) war.
SCREAMING SHADOWS agieren zwischen traditionellem Heavy und Melodic/Power Metal verbunden mit einige NWOBHM-Einflüssen. Die zehn Nummern gehen aber nur zum Teil so richtig gut ins Ohr und manchmal vermisst man Überraschungsmomente und Originalität.
Und dennoch ragen zwei Kompositionen deutlich heraus. Die beiden grandiosen, eingängigen Ohrwürmer 'Heaven Or Hell' und 'Stand In Line' mit ihren Hammer-Refrains sind beinahe allein den Kaufpreis wert.
Als weitere kleinere Highlights könnte man die Power-Ballade 'Lost Child' und das abschließende, flotte 'Where I Have Been Up To Now' nennen. Insgesamt solide Scheibe mit einer sehr guten Gesangsleistung und zwei großen Höhepunkten.
Michael Gaspar vergibt 7 von 10 Punkten