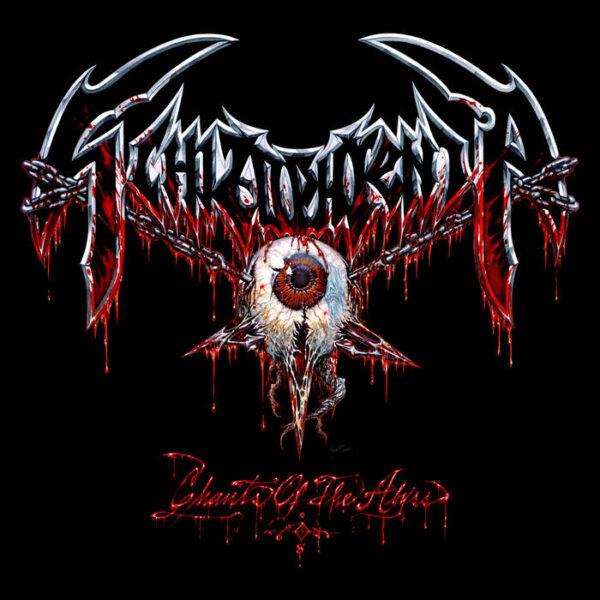 SCHIZOPHRENIA
Titel: CHANTS OF THE ABYSS EP
Label: EIGENVERÖFFENTLICHUNG
Spieldauer: 20:06 Minuten
VÖ: 10. Februar 2023
Die belgischen Death/Thrasher von SCHIZOPHRENIA konnten mit ihrer Debüt EP Voices ordentlich Staub aufwirbeln. Furios und knackig haben sie agiert. Das letztjährige vollständige Album war an sich nicht schlecht, konnte aber nicht an die EP anknüpfen.
Heuer legen uns die Jungs aus Antwerpen eine Sechs-Track Coverscheibe vor. Zum Einstieg hat man mit 'Necrophiliac' von den Altmeistern Slayer einen absoluten Klassiker ausgewählt. Interessanterweise schaffen SCHIZOPHRENIA den Spirit des Songs gut einzufangen und zu präsentieren. Die Morbidität des Stücks – seit jeher das Gütemerkmal der Totschläger – haben die Jungs nahezu perfekt wiedergeben können. Gleiches kann ich für den Morbid Angel Klassiker 'Maze of Torment' bestätigen. Sehr nah am Original mit dem Gespür für den Sound der späten Achtziger. Wenig originell könnte man da einwerfen. Das stimmt, aber ein Original kann man durchaus auf unterschiedliche Wege ehren.
Track drei ist dann ein Judas Priest Cover von 'Metal Meltdown' gefolgt vom The Misfits Cover 'Bullets'. Auch hier bleibt man – außer gesanglich – nah am Original, beide Cover erscheinen hier aber entbehrlich, wenngleich es keine verunglückten Versionen sind. Abschließend kommen 'Strike of the beast' (Exodus) und 'Race Against time' (GBH) zum Zuge. Die beiden Tracks kloppen nochmal alles weg und zeigen sehr klar die Achtziger Jahre Einflüsse aus Thrash und Hardcore gleichermassen auf eine Band wie SCHIZOPHRENIA. 
Nicht alle Coverversionen konnten überzeugen, aber insgesamt bleibt es eine überaus brauchbare Zusammenstellung an nicht gerade üblichen Coverbearbeitungen von SCHIZOPHRENIA.
Ingo Holzhäuser vergibt keine Bewertung