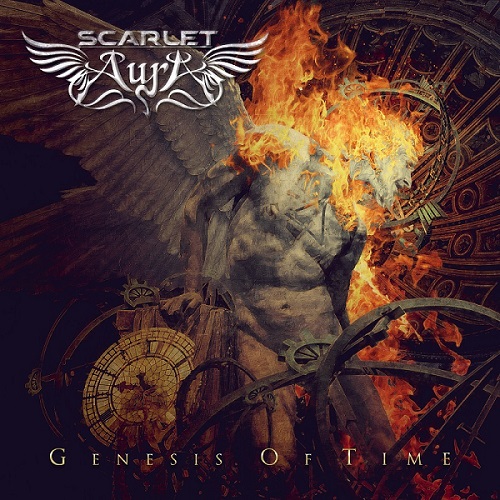 SCARLET AURA
Titel: GENESIS OF TIME
Label: SILVER CITY RECORDS/UNIVERSAL MUSIC ROMANIA
Spieldauer: 70:23 Minuten
SCARLET AURA kommen aus dem Land, das bekannt ist für Berge, Burgen, Festungen, das Schwarze Meer, Vampire und Dracula. Das rumänische Quartett rund um Sängerin und Texterin Aura Danciulescu und ihren Ehemann und Songwriter Mihai bringt mit "Genesis Of Time" bereits seinen sechsten Longplayer seit der Gründung im Jahre 2014 heraus, welcher überdies den Abschluss der "The Book Of Scarlet"-Trilogie bedeutet.
Der sechseinhalbminütige, gleichnamige Auftakt lockt den Hörer erst mal auf die falsche Fährte, denn so flott und progressiv wie hier geht es im Folgenden nur selten zu. Die Kompositionen bewegen sich im Bereich des Doro-esquen Hard Rocks und Heavy Metals mit gelegentlichen Ausflügen in härtere (Power) Metal-Gefilde. Zudem kommt kaum ein Track ohne ein langes, prächtiges Gitarren-Solo aus.
Doch so lange am Ende Ohrwürmer wie das grandiose 'Utopia' und der geniale Titelsong oder pumpende Rocker wie das dunkle 'Frostbite' und das überragende 'Saints Need Sinners' dabei herauskommen, ist der stilistische Stempel doch eigentlich auch völlig egal. In der eingängigen (Halb-)Ballade 'The Black Roses' geht es etwas ruhiger zu und die Reibeisen-Stimme der Frontfrau erinnert nun vollends an Bonny Tyler.
Die beiden härtesten Stücke der Scheibe sind sicherlich 'Humans Obsolete' und 'In The Line Of Fire', welche darüber hinaus mit sozialkritischen und ermutigenden Lyrics versehen sind. Hier kann man dann im wahrsten Sinne von "Power" Metal sprechen.
Unter dem Strich ein starkes, abwechslungsreiches Album einer noch jungen Band mit einer der interessantesten, außergewöhnlichsten und facettenreichsten neuen Rockröhre unserer Zeit.
Michael Gaspar vergibt 8 von 10 Punkten