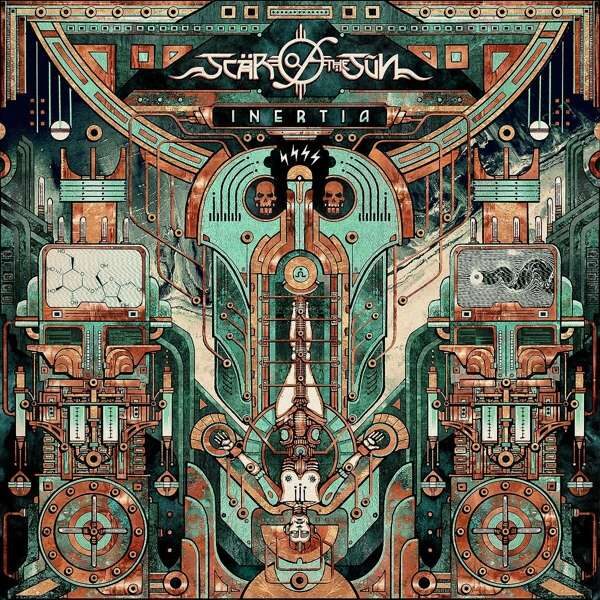 SCAR OF THE SUN
Titel: INERTIA
Spieldauer: 43:31 Minuten
Nachdem SCAR OF THE SUN-Sänger Terry Nikas mir "Inertia" bereits 2019 voller Stolz vorspielte, hat es tatsächlich anderthalb Jahre gedauert, bis sich mit Napalm Records endlich ein namhaftes Label entschließen konnte, das dritte Album der Athener zu veröffentlichen. Eigentlich unverständlich, denn bei SCAR OF THE SUN handelt es sich zweifellos um eine der stärksten europäischen Dark bzw. Gothic Metal-Bands überhaupt.
Dabei wirkt die Band auf "Inertia" allerdings noch ein ganzes Stück heavier und brachialer als auf dem hervorragenden Vorgänger "In Flood", so dass man wie beim Titelstück auch schon mal in Melodic Death-Gewässern fischt. Vielleicht hat Terry sich ja von Rotting Christ inspirieren lassen, deren (Tour-)Manager er ist. Im Endeffekt ist es jedenfalls sein variantenreicher Gesang, der dieses Album entscheidend prägt. Die Zeiten, in denen er einfach nur seinem Vorbild Nick Holmes nacheiferte und SCAR OF THE SUN ein wenig wie den kleinen Bruder von Paradise Lost klingen ließ, gehören jedenfalls der Vergangenheit an.
Die gesamte Band wirkt merklich gereift und perfekt eingespielt. Da ist zum einen die arschtighte Rhythmussektion Thanos (Drums)/Panagiotis (Bass) und zum anderen das bockstarke Gitarrentandem Alexi/Greg. Auf deren instrumentalem Grundgerüst tobt Nikas sich nicht nur vokal, sondern auch mit seinen kreativen Samples und Synthies, nach Lust und Laune aus. Das Album ist extrem abwechslungsreich und reißt den geneigten Rezipienten immer wieder von einer Stimmung in die nächste.
So gibt es auf der einen Seite atmosphärische Songs wie 'Oxygen' und auf der anderen Seite heftige Nummern wie 'Thrust' oder man wechselt die Stimmungen gleich mehrfach wie in 'Zenith To Minos'. Was alle elf Tracks auf 'Inertia' eint, ist ihre kompositorische Finesse und die emotionale Tiefe. Dazu trägt natürlich auch der transparente Sound bei. Abgerundet wird das Ganze durch ein weiteres mystisches Kunstwerk auf dem Cover. Uneingeschränkte Kaufempfehlung.
Alex Fähnrich vergibt 9 von 10 Punkten