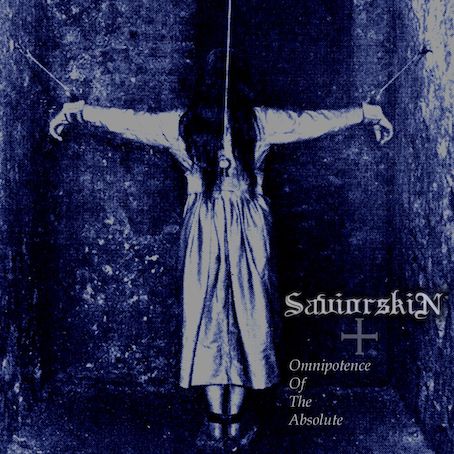 SAVIORSKIN
Titel: OMNIPOTENCE OF THE ABSOLUTE
Label: HORROR PAIN GORE DEATH
Spieldauer: 47:00 Minuten
Die noch recht junge Band aus Houston Texas, nennt ihren eigenen Stil Industrial Gothic Doom Death Metal – Was ein Ungetüm aber es passt recht gut zum Debütalbum. Maschineller Rhythmus trifft auf Paradise Lost zu "Gothic" Zeiten nur derber, roher , moderner und brutaler als die Briten es damals waren.
Acht Songs sind auf "Omnipotence Of The Absolute" gelandet. Allesamt voller Melodik, Härte und langsamen Post-Punk Death Riffing mit Schwere und Melancholie. Der Opener 'PAINdemonium' zeigt wo es auf diesem Output hingeht: Nach Gitarrengoth-Eröffnung, folgt die Death metallische Strophe, die in einem Post-Punk Part einmündet. Die Vocals passen sich entsprechend an und variieren aggressives Growling mit klarem Gesang, der, anständig verhallt, auch gelegentlich grob in Richtung Fear Factory tendiert. Das Muster zieht sich grundsätzlich durch die Tracks, wobei mal die traurige Leadgitarre, mal das gekonnt heftig  gekotzte Wort den Vordergrund zu den meist typischen Death Metal Riffs bildet. Das Ergebnis ist immer finster und hart sowie in einem vernünftigen Rahmen eingängig, auch wenn einige Parts, wie bei 'Chastising The Nothing' gewollt durch "Störgeräusche" auffallen. 'Wages Of Sin' dreht das Verhältnis der Death Metal und Goth-Anteile um aber dennoch sind hier vor allem Freunde des Todesbleis angespochen, das zeigen schon die Gastauftritte von Kam Lee, Rogga Johansson und Bobby Tufino.
SAVIORSKIN beweisen, dass Death Metal auch mal nicht hämmern muss und frühe Paradise Lost als größtem Referenzpunkt zu haben ist ja auch kein Fehler, zumal einzelne Songs wirklich packend sind und den Hörer regelrecht in diese dunkle Soundwelt ziehen.
Sven Bernhardt vergibt 8 von 10 Punkten