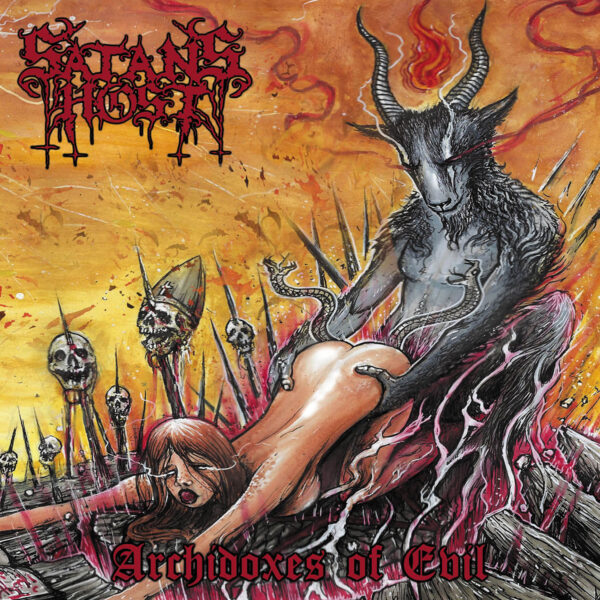 SATAN'S HOST
Titel: ARCHIDOXES OF EVIL
Spieldauer: 50:08 Minuten
SATAN'S HOST sind für mich ein absolutes Unikum, sowohl karrieretechnisch wie auch musikalisch. "Archidoxes of Evil" ist eine remasterte Version des Albums, das bereits 2000 das Licht der Welt erblickte. Es wurde aber nie offiziell durch ein Label veröffentlicht, sondern wurde als CD-R von der Band bei Konzerten verkauft. Moribund Records legen diese Scheibe somit erstmals für den Handel auf. Als Bonus packen sie noch den Song "Nightside of Eden" als neu eingespielte Version von 2011 drauf.
SATAN'S HOST, die bereits 1977 gegründet wurden, zocken auf "Archidoxes of Evil" eine kraftvolle Mischung von US-Power Metal mit starken Death und Black Metal Einflüssen. Vom Soundbild sind mir spontan ACHERON eingefallen, wenngleich diese etwas radikaler zu Werke gehen. Blasphemische Oden an die Dunkelheit werden hier aufgeboten. Das Coverartwork zeigt den Gehörnten beim Akt und unterstreicht sowohl die textlich-musikalische Ausrichtung als auch die Underground Credibility.
"Archidoxes of Evil" ist eine Scheibe mit variierenden Tempobereichen, akzentuiertem Schlagzeugspiel und verzerrten Gitarrensound wie man ihn auch bei NUN SLAUGHTER findet. Tracks wie "Devil's Orison", "Nightside of Eden", "Purified in Pain" oder der Abschlussbrecher "Demons from Nazarene – Ode to Lucifer" zeigen die songschreiberische Klasse der Band. SATAN'S HOST machen auch dem skeptischen Hörer klar, wie ihnen der Spagat zwischen Power – und Extrem Metal mit Bravur gelingt. Auch wenn sie heutzutage thrashiger unterwegs sind und seit 2009 den zurückgekehrten Harry "The Tyrant" Conklin (hier unter dem Pseudonym Leviathan Thisiren agierend) in ihren Reihen haben, ist "Archidoxes of Evil"  kein schlechtes Scheibchen. Auch aufgeschlossene US-Metal Spezialisten dürfen sich hier gerne mal die Geheimratsecken durchföhnen lassen.
Ingo Holzhäuser vergibt 7,5 von 10 Punkten