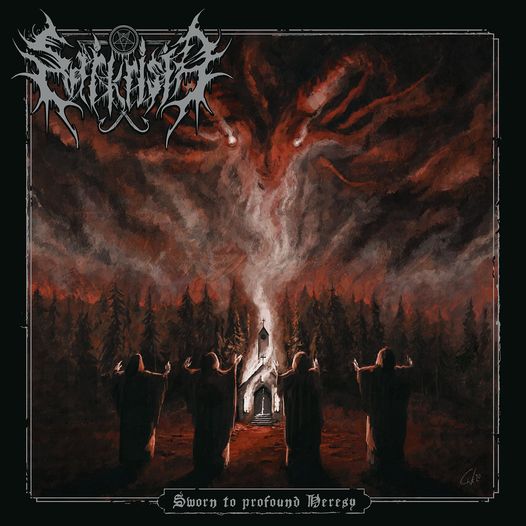 SARKRISTA
Titel: SWORN TO PROFOUND HERESY
Label: PURITY THROUGH FIRE
Spieldauer: 48:12 Minuten
Nicht schlecht Herr Specht, was uns die Schleswig-Holsteiner "Satanic" Black Metal Institution (immerhin seit zehn Jahren aktiv!) da so an schwarzer Musik bietet. SARKRISTA veröffentlichen mit "Sworn to profound heresy" ihren dritten vollständigen Tonträger. Auch wenn sich SARKRISTA nicht unendlich signifikant weiterentwickeln oder hippe Elemente in ihrem Sound verwursten, steht die neue Scheibe für Beständigkeit in diesen unbeständigen und unsicheren Zeiten. Bei SARKRISTA weiß man, was man erwarten darf und man weiß auch was man kriegt: meist stampfenden, gerne auch mal schnellen rohen und urtümlichen Black Metal finnischer Prägung (soundtechnisch). Hier gibts kein Gedudel, Dark Ambient oder Post-XY Gejaule. Hier gibts Sauerkraut und Kassler statt Quinoa auf Räucher-Tofu.
Auch auf die Gefahr hin, dass ich einen guten Kumpel kurz verärgere: Abwechslung ist nicht wirklich eine Stärke der Band. Gleichwohl aber Verlässlichkeit. Es ist alles recht einfach gehalten, Songaufbau, Schlagzeugspiel und Riffing. Dennoch schaffen SARKRISTA immer wieder Atmosphäre, auch oder gerade durch die galligen Vocals von Revenant.
Glanzstück der Scheibe bleibt für mich das finale "A whisper from forgotten coffins". Mit gehöriger Rock-Attitüde und nachdenklichen Hooks über achteinhalb Minuten gelingt SARKRISTA ein klasse Abschluss dieser Scheibe. Auch wegen der Gesangsphrasierung, musste ich an einen nicht näher genannten Weinbauern aus Norwegen denken…
Ehrlich gesagt ist den Burschen von SARKRISTA ein tolles Drittwerk mit "Sworn to profound heresy" da gelungen. Einfach aber effektiv und durchschlagend! Klasse!
Ingo Holzhäuser vergibt 8,5 von 10 Punkten