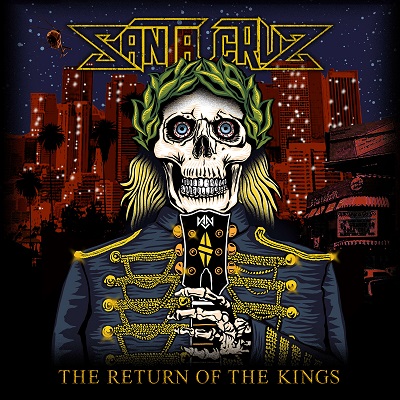 SANTA CRUZ
Titel: THE RETURN OF THE KINGS
Spieldauer: 37:45 Minuten
VÖ: 26. August 2022
Arttu "Archie Cruz" Kuosmanen hat das neue Scheibchen "The Return Of The Kings" der finnischen Hard/Sleaze Rocker in den Jahren 2020 und 2021praktisch im Alleingang als One-Man-Studioprojekt in seiner Heimat aufgenommen.
Die durch das LA-basierte Trio aus Gitarrist Jerry Jade (Bad Gvy), Bassist Tommy Bradley (Revelry Gang) und Drummer Randy McDemian zum Vierer komplettierte Band möchte den klassischen Sunset Strip Sound in die Gegenwart transportieren.
Und das gelingt den zehn neuen Songs (plus eine Coverversion) vortrefflich; man meint förmlich die sonnenüberflutete Straße und gestylte, braungebrannte Menschen vor sich zu sehen. Oder den ein oder anderen Skater- oder Surferboy, der aus Santa Monica herübergekommen ist.
Stücke zwischen klassischem Glamrock, 80s/90s Punk und angepopptem Hardrock machen Laune und fangen das Lebensgefühl authentisch ein. Der rockige Doppelpack aus den beiden Hymnen `Here Comes The Revolution´ und `Take Me To America´ macht dies direkt zu Beginn der Scheibe mehr als deutlich.
Der balladeske Lovesong `Disarm´ könnte so oder ähnlich auch fast von einer 90er Boygroup stammen, andere etwas flottere Stücke erinnern an Poppunk der Marke Good Charlotte oder The Offspring. Am besten wissen aber Abgehnummern wie das grandiose `Shots´ und das treibende `Gunshot´ zu gefallen.
Die poppig, punkig, eingängige Coverversion `Stay´ (von The Kid Laroi ft. Justin Bieber) rundet eine unterhaltsame gute halbe Stunde stimmig ab.
Michael Gaspar vergibt 8 von 10 Punkten