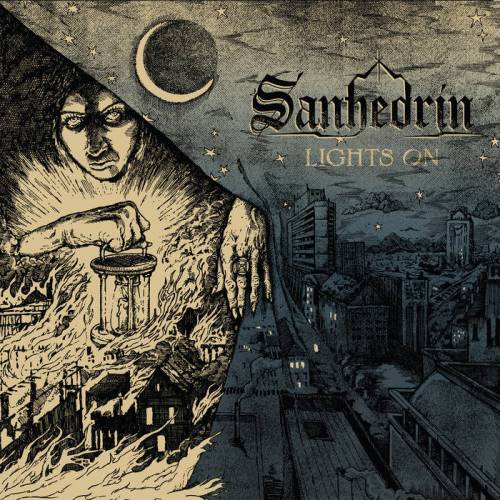 SANHEDRIN
Titel: LIGHTS ON
Spieldauer: 41:03 Minuten
VÖ: 4. März 2022
SANHEDRIN, das Power Trio aus Brooklyn, hat sich über seine bisherigen Veröffentlichungen "A Funeral For The World" und "The Poisoner" immer zu steigern gewusst. Und dies gelingt Ihnen auch noch einmal bei dem aktuellen, dritten Langeisen "Lights On".
Die Brooklyner:innen schaffen es auch hier wieder, ihre Melange aus Hard Rock, Proto Metal und Heavy Metal unprätentios und einfach an die Hörer zu bringen.
Unprätentiös und einfach bezieht sich hierbei allerdings nicht auf die Songs, sondern auf die Tatsache, dass das Trio hier keine künstlichen Soundwände auffährt, welche sich live nicht nachvollziehen lassen, sondern mit einem knackigen, erdigen Live Sound arbeitet. Ähnliches gelang auch The Rods über Jahre.
Und dass dieser Sound erstklassig wirkt, könnt ihr bei Kompositionen wie dem fett riffenden Opener 'Correction' mit seinem hymnischen Refrain, dem treibend beginnenden und dann lässig rockenden 'Lost At Sea', dem luftigen Rocker 'Code Blue' mit seinem coolen Drum Groove, dem Up Tempo Banger 'Scythian Woman' und dem abwechslungsreichen 'Death Is A Door' als fulminanten Abschlusstrack nach hören.
SANHEDRIN sind definitiv mit dieser Scheibe auf dem richtigen Weg, als Power Trio einen weiteren Schritt Richtung Dauerhaftigkeit zu gehen. Oder anders formuliert und einfach auf den Punkt gebracht: Geile Scheibe.
Ludwig Lücker vergibt 9 von 10 Punkten