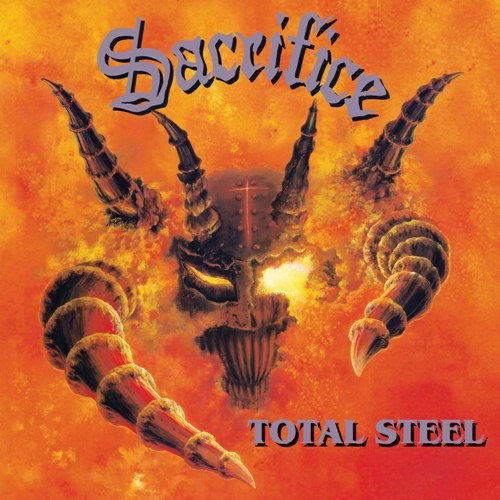 SACRIFICE
Titel: TOTAL STEEL
Label: DYING VICTIMS PRODUCTION
Spieldauer: 45:52 Minuten
Bei diesen SACRIFICE handelt es sich um die Japaner, welche sich schon von 1985 bis 1992 formierten und nun seit dem Jahr 2013 wieder präsent sind.
"Total Steel" ist allerdings kein neues Lebenszeichen der Band aus Tokyo, sondern ein Re-Release ihrer 1990er Scheibe, welche von Dying Victim Production neu unters Volk gebracht wird.
Da stellt sich natürlich wieder mal die Frage, ob sich dies lohnt…SACRIFICE zocken angeschwärzten Thrash Metal und erinnern mich des Öfteren an eine thrashige Venom Variante oder an Warfare.
Dies ist ja auch nichts ehrenrühriges, verstehen es die vier Mucker doch auch, dies in knackige Songs zu verpacken. So kann ich euch den pumpenden Mid Tempo Banger und gleichzeitigen Titeltrack 'Total Steel', den fetten Mid Tempo Rumpler 'Dancing Death Valley', das wilde Geprügel bei 'Fight To Be Free' und den Rausschmeißer der Scheibe 'Cold Storm' an die schwarze Seele legen.
Zwar ist die Produktion nicht State of the Art, aber das muss es bei der Mucke auch nicht zwangsweise sein. Also, lohnenswert? Zumindest teilweise, denn Spass macht die Mucke schon, ohne allerdings den Anspruch zu erheben, wirklich essentiell zu sein.
Ludwig Lücker vergibt 7 von 10 Punkten