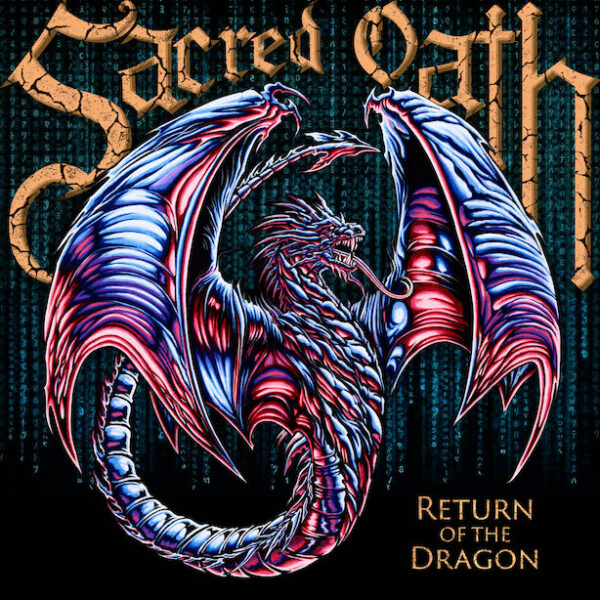 SACRED OATH
Titel: RETURN OF THE DRAGON
Label: ANGEL THORNE MUSIC
Spieldauer: 51:25 Minuten
SACRED OATH ist ein US-Metal-Urgestein aus den goldenen Achtzigern, das von dessen Gründer Rob Thorne erfolgreich in die Neuzeit geführt wurde. Dabei gab es zwar nach dem legendären Debüt "A Crystal Vision" eine längere Bandpause, aber seit 2005 veröffentlicht Rob im Schnitt fast alle zwei Jahre ein neues Album, darunter absolute Granaten wie "Darkness Visible" und "World On Fire".
Mit den letzten beiden Studioalben "Ravensong" und "Twelve Bells" öffnete man sich teilweise auch modernen Sounds, was die Fans der ersten Stunde nicht durch die Bank begeisterte. Mit dem neuen Album "Return Of The Dragon" gelingt es SACRED OATH eine Brücke zwischen ihren verschiedenen Bandphasen zu schlagen. Das Ding klingt einerseits zeitgemäß, vor allem was die enorm druckvolle Produktion betrifft, andererseits aber auch back to the roots in Sachen Songwriting.
Jedenfalls hat Rob sich in beiden Disziplinen diesmal selbst übertroffen und auch gesanglich ist er so variabel wie selten zuvor. Ob die Hinzunahme des jungen Gitarristen Damiano Christian auch eine Rolle spielt, ist von außen schwer zu beurteilen, aber der Jungspund scheint Billy Smith und Altmeister Thorne ganz schön angestachelt zu haben. Auf alle Fälle sind die Riffs so hart und die Soli so filigran wie schon lange nicht mehr.
Die Rhythmusgruppe ist mit Urdrummer Kenny Evans und Bassist Brendan Kellerher ohnehin perfekt eingespielt und kommt durch den fetten Sound mit richtig Wumms daher. Zudem hat Kenny bei den farbenfrohen Grafiken im Booklet, allen voran dem endgeilen Cover, ganze Arbeit mit viel Liebe zum Detail abgeliefert.
Bis zum Release im April werden mehrere Songs mit den entsprechenden Bildern als Lyric-Videos veröffentlicht. Den Anfang machten bereits das phänomenale Titelstück und 'Hammer Of An Angry God'. Insgesamt ist "Return of The Dragon" das beste Sacred Oath-Album seit "World On Fire" und wird keinen Oathbanger enttäuschen. Besorgt euch das Ding auf Bandcamp oder direkt bei der Band: www.sacredoath.net.
Alex Fähnrich vergibt 9 von 10 Punkten