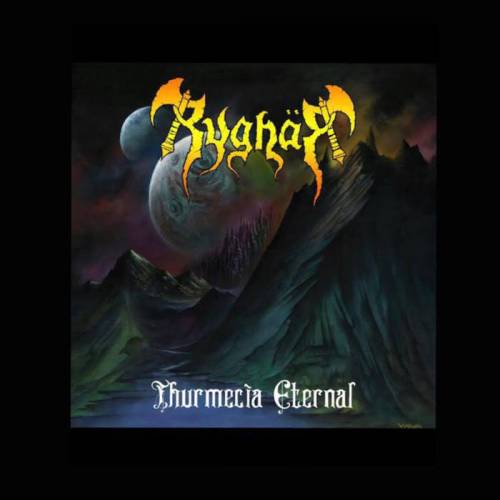 RYGHÄR
Titel: THURMECIA ETERNAL
Spieldauer: 38:46 Minuten
Ihr kennt RYGHÄR bisher nicht? Kann ich verstehen, denn ich kannte die Truppe aus Texas mit dem mir so wenig nachvollziehbaren Namen bisher auch nicht. Die Jungs legen mit "Thurmecia Eternal" allerdings auch erst ihren Debüt Longplayer vor.
Der aber hat es in sich und führt dazu, dass mit RYGHÄR eine weitere Band existiert, die den Epic Metal Thron erklimmen möchte und dafür auch einiges tut und vieles richtig macht.
Tracks wie das im epischen Mid-Tempo marschierende 'Cair Vasturhaf A Flaming Sunset On The Parapets Of The King Of The West' – was für ein Songtitel – , das schleppend beginnende und dann stampfende 'A Desperate Plan On The Field Of Battle' , das walzende 'A Baleful Wind Cries Above The Ziggurat Esoternium', der hymnische Banger 'In A Land Where The Sun Never Sleeps' und die abschließende  Hymne 'The Witching Blade' sind hervorragend dazu geeignet mit dem Schwert in der Hand vor der heimischen Anlage nicht vorhandene Feinde zu bekämpfen –Epic Fans werden mich verstehen – ….großes Epic Kino jedenfalls.
Die mittelhohen klaren Vocals von Fronter Ryghär Highwind passen hervorragend zur Mucke und auch wenn zwei, drei durchschnittliche Tracks die neun als Benotung knapp verhindern, gibt es hier einen weiteren hoffnungsvollen Epic Newcomer, den Genre Freunde keinesfalls vernachlässigen sollten.
Ludwig Lücker vergibt 8,5 von 10 Punkten