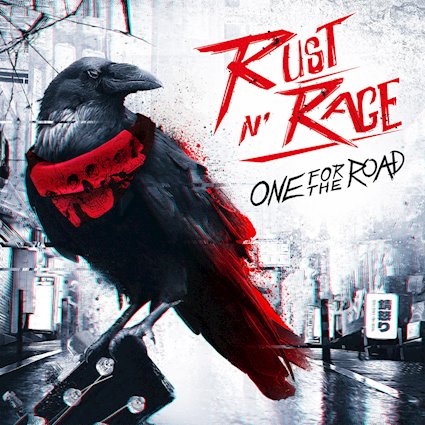 RUST N' RAGE
Titel: ONE FOR THE ROAD
Spieldauer: 42:59 Minuten
VÖ: 11. März 2022
Die finnischen Rocker von RUST N' RAGE zählen so illustre Acts und Legenden wie Guns 'n' Roses, Judas Priest, Mötley Crüe und Dokken zu ihren Einflüssen. "One For The Road", das von Jimmy Westerlund von den Genre- und Labelkollegen One Desire produzierte Debütalbum, steht dann auch für einen eingängigen, energetischen Heavy Rock/Melodic Metal Mix.
Insbesondere die mitreißenden Kompositionen mit ihren meist verfangenden Refrains und packenden Soli sowie die fantastische, facettenreiche Gesangsleistung des Frontmanns Vince sorgen für ein aufregendes, begeisterndes Hörerlebnis.
Chorus und Solo sind direkt die richtigen Stichworte für den Einstiegsohrwurm `Prisoner`, während es im Folgenden `Ghost Town` langsamer, dafür aber härter und genauso fesselnd weitergeht. Der Titelsong entpuppt sich als beinahe poppiger Volltreffer mit chorischem Singalong.
Es folgen das harte mit göttlichem Refrain gesegnete `The Future Is For The Strong`, die dramatisch-ergreifende und sich steigernde Powerballade `Heartbreaker` und das flotte `Hang `M High`. Das großartige `Ride On` entwickelt sich zu einem druckvollen Kracher, nachdem es in einer Art Live- oder Bar-Situation mit Hintergrundgeräuschen begonnen hat.
Musikalische Ausrichtung, Härtegrad und Geschwindigkeit unterscheiden sich mitunter also deutlich und sorgen für viel Variation und Unterhaltung während der elf Stücke.
Bleiben noch das bockstarke `I've Had Enough` mit seinen üppigen Ohoho-Chören, packendem Solo und erneut mächtigem Chorus sowie die wunderbare Ballade `Unbreakable` herauszuheben. Aber so könnte man beinahe jeden Song dieser grandiosen Debütscheibe herausgreifen – und das mit Recht!
Michael Gaspar vergibt 8,5 von 10 Punkten