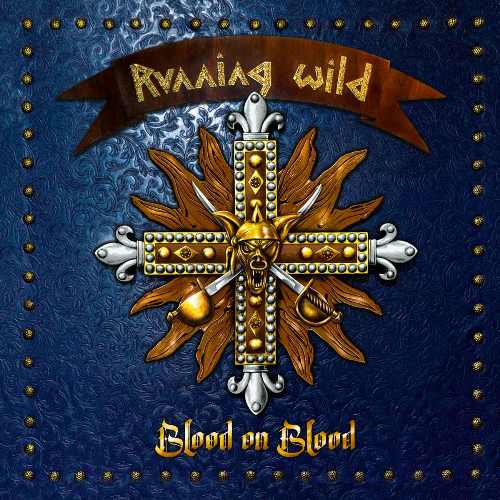 RUNNING WILD
Titel: BLOOD ON BLOOD
Spieldauer: 55:39 Minuten
Ja, ja, ich geb's ja zu, ich bin ein Fan der Hamburger Kapelle seit seligen "Gates To Purgatory" und "Branded And Exiled" Tagen, die ja wohl leider nicht mehr wieder kommen.
Aber auch als Käpt'n Rolf neue Segler anheuerte und unter der Totenkopfflagge, dem Jolly Roger, zu neuen Ufer auslief, hatten die Hamburger ihre guten Tage, die aber zu Zeiten als Rock'n Rolf seine Alleinherrschaft ausrief, schon mal in die Nähe der ein oder anderen Untiefe schrammte.
"Rapid Foray", die letzte Scheibe RUNNING WILD's war jedenfalls ein echter Kracher und weckte in Verbindung mit der neu angeheuerten Mannschaft bei mir doch die ein oder andere Erwartung.
Wenn RUNNING WILD die Kogge in alte Gewässer steuern und mit knackigen, an alte Zeiten angelehnte Titel wie dem stampfenden Opener und gleichzeitigen Titeltrack 'Blood On Blood' mit seiner coolen Gesangs-Melodie, dem rhythmischen, eingängigen Piraten Rocker 'Diamonds & Pearls', dem nach ruhigen Beginn hymnischen Mid Tempo Stampfer 'Crossing The Blades' und dem fetten Stampfer 'The Shellback' richtig Fahrt aufnehmen, dann sind sie wieder da, die alten Tage. Und das gelingt ihnen auch mit dem eher ungewöhnlichen, epischen Long Track 'The Iron Times (1618-1648)'.
Allerdings schiessen die Hamburger Jungs immer auch mit Party Munition statt ihrer 16-Pfünder Artillerie. Die Party Songs sind zwar Kiss kompatibel und für sich oder eine andere Band gesehen gar nicht schlecht, passen aber nicht hundert prozentig zum RUNNING WILD'schen Gesamtbild, zumindest nicht, wie ich es mir vorstelle.
Alles in Allem ist "Blood On Blood" allerdings ne gelungene Scheibe, der Vorgänger hatte allerdings noch mehr Schmackes……
Ludwig Lücker vergibt 8 von 10 Punkten