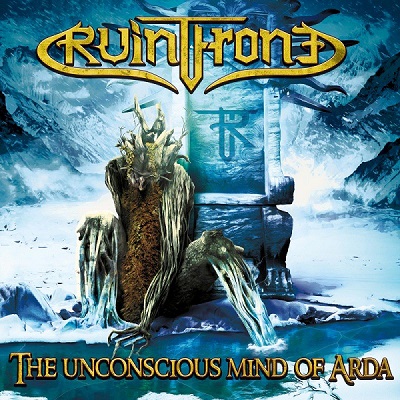 RUINTHRONE
Titel: THE UNCONSCIOUS MIND OF ARDA
Spieldauer: 55:26 Minuten
VÖ: 13. Januar 2023
Die Italienischen Fantasy Power Metaller RUINTHRONE veröffentlichen ihr Zweitwerk "The Unconscious Mind Of Arda", welches auf das Debütalbum "Urban Ubris" (2013) folgt. Die neue Scheibe besteht aus Songs, die von J.R.R. Tolkien's Gedicht "Legendarium" inspiriert wurden.
Dabei formuliert die Band das hehre Ziel, mit den Stücken Botschafter der Reflexion für ihre Zuhörer sein zu können und bei diesen ein besseres Bewusstsein für ihr tägliches Leben zu wecken. Das lassen wir mal so stehen, aber zumindest musikalisch präsentiert man sich definitiv vielseitig, eigenständig und enorm kurzweilig.
Dabei greift die Einordnung Power Metal um Einiges zu kurz. Die Vocals von Fronter Haedus bewegen sich zwischen gemäßigten Growls und Melodie sowie teilweise angeschwärzter Aggressivität und phasenweise mit viel Theatralik und Pathos vorgetragener cleaner Heroik hin und her, gewissermaßen zwischen Johann Hegg und Hansi Kürsch.
Die neuen Stücke, deren Basis Power Metal mit viel Tempo und Doublebassgewitter bildet, weisen außerdem Stilmittel und Einflüsse aus Symphonic, Epic und Folk Metal auf. Sie bieten neben tollen Melodien und teilweise eingängigen Refrains, üppige Keyboards und Orchestrierungen sowie Piano- und Orgelklänge, aber auch hartes, melodisches und ungewöhnliches Riffing.
Das Wichtigste aber ist, dass es dem Sechser gelingt, aus all diesen Teilen und Stilelementen unterhaltsame, packende und abwechslungsreiche Songs zu kreieren, die vielleicht nicht alle beim ersten Durchlauf zünden, dann aber ihre ganze Wucht und Schönheit entfalten.
Als gelungenste Einblicke in das Schaffen der Gruppe seien das aggressive `The Dreamweaver´, der Ohrwurm mit Hitpotential `I Am The Night´, das hymnische `The Eldest´ und nicht zuletzt die beiden Longtracks, der grandiose, abwechslungsreiche Achtminüter `The Past Is Yet To Come´ und das episch-balladeske, beinahe zehnminütige `For Those Who Remain´ genannt.
Das leise, orchestral-akutische, leicht folkig angehauchte `Where You Belong´ schließt ein facettenreiches, kurzweiliges, forderndes Album unerwartet ruhig und dennoch stimmig ab.
Michael Gaspar vergibt 8 von 10 Punkten