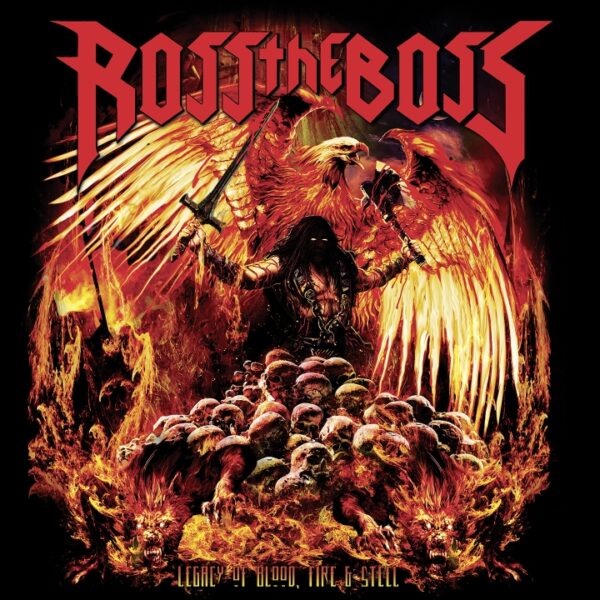 ROSS THE BOSS
Titel: LEGACY OF BLOOD, FIRE & STEEL
Spieldauer: 49:57 Minuten
VÖ: 28. April 2023
Wer ROSS THE BOSS sagt muss auch automatisch Manowar sagen, oder? Eindeutig ja, wenn man sich das Albumcover von "Legacy of Blood Fire & Steel" ansieht das doch sehr daran erinnert. Ross Friedman beherrscht sein Handwerk und der Erfolg gibt ihm nunmehr seit 35 Jahren recht. Wer auf epischen Heavy Metal steht ist hier bestens aufgehoben. Da muss man niemandem mehr etwas beweisen. Und live mäht man sowieso alles nieder. Auf dieser, nennen wir es Jubiläums-Sammlung, erhält man einen guten Überblick über die bisherigen Epochen und Entwicklungen der Band.
Aber jetzt mal Butter bei die Fische:  Muss man nach vier Alben ein Best of auf den Markt werfen? Kann man nach 15 Jahren ROSS THE BOSS sicher machen. (Muss man aber- in dieser Form- nicht.) Zwar strahlt mein innerer Monk bezüglich der chronologischen Reifenfolge, setzt sich aber wieder schmollend in die Ecke weil irgendwie nix anders ist.
Auf der "Legacy of Blood, Fire and Steel" wurden zum Jubiläum recht systematisch vom ersten Album die Titel `Blood Of Knives`, `I Got The Right` und `We Will Kill`, vom zweiten Album `Kingdom Arise`, `Hailstorm` und `Great Gods Glorious`, vom dritten Album `By Blood Sworn`, `This Is Vengeance` und `We Are The Night` sowie vom vierten Album `Maiden Of Shadows`, `Born Of Fire` und `Denied By The Cross` zu einer Compilation zusammengefasst die es exklusiv auf  1000 Stück limitierten Vinyl geben wird.
ABER: Am besten sind ROSS THE BOSS eh live und davon könnt ihr Euch ab dem 28.April 2023 bis zum 13. Mai 2023 selbst überzeugen.
Judith Kroll vergibt 6,5 von 10 Punkten