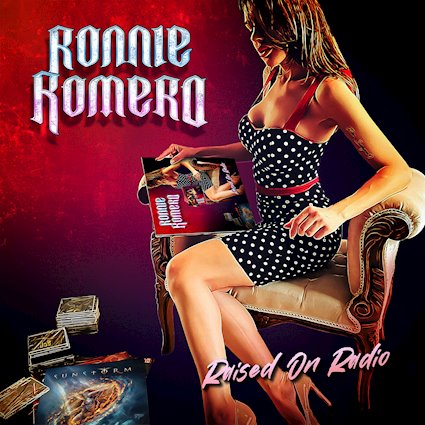 RONNIE ROMERO
Titel: RAISED ON RADIO
Spieldauer: 49:00 Minuten
VÖ: 15. April 2022
Der vielbeschäftigte Rocksänger RONNIE ROMERO (Lords of Black, The Ferrymen, Sunstorm, Rainbow, MSG) bringt als seine erste Soloscheibe das Cover-Album "Raised On Radio" auf den Markt, wofür er sich elf unbekannteren Stücken sehr populärer Bands und Künstler wie Survivor, Bad Company, Foreigner, Queen, Led Zeppelin und Bob Dylan gewidmet hat.
Dabei stehen ihm Gitarrist Srdjan Brankovic (The Big Deal, Alogia), Javi Garcia am Bass, Drummer Andy C (ex-Lords of Black) und der unverwüstliche Alessandro Del Vecchio, der Keyboard, Produktion, Mixing und Mastering übernimmt, zur Seite.
Coverversionen sparen Zeit und die Rechte sind günstiger als man glaubt, aber vor allem sind sie ein wichtiger Teil der heutigen Popkultur. Dabei kann eine Bearbeitung das Original dekonstruieren, parodieren, verklären oder imitieren. In der Regel gefallen solche Versionen am besten, welche die meiste stilistische, musikalischen und/oder emotionale Distanz zur Vorlage aufbringen.
Also nicht einfach für RONNIE ROMERO, wenn er sich mit Stücken wie `Backstreet Love Affair` (Survivor), der Kansas-Ballade `Play The Game Tonight` und `Girl On The Moon` auf gewohntem Terrain bewegt. Zugegebenermaßen liefert er aber auch hier eine solide Leistung ab.
Ein wenig spannender und unterhaltsamer sowie musikalisch hochwertiger wird es jedoch dann, wenn der Sänger seine "Komfortzone" verlässt. So trifft seine Version von Bad Company´s `No Smoke Without Fire` den Vibe des Originals überraschend gut und auch die rockigen Bearbeitungen von `Gypsy` (Uriah Heep) und `Voices` vom britischen Sänger und Komponisten Russ Ballard können sich hören lassen.
Doch die echten Glanzlichter der Scheibe sind andere. Nämlich, wenn Romero sich `Carolina County Ball` von Dio´s erster (Bluesrock)Band Elf, Queen´s `I Was Born To Love You` (singt da nicht vielleicht doch Freddie M.?) und dem von Bob Dylan geschriebenen, aber auch oft von Jimi Hendrix interpretierten `All Along The Watchtower` widmet und eine brillante Performance aufs Parkett zaubert.
Fazit: solide Coverscheibe, aber nichts, worauf die Welt gewartet hat, und im leider nicht unbedingt positiven Sinne ein "typisches" Frontiers-bzw. Del Vecchio-Projekt.
Michael Gaspar vergibt 7 von 10 Punkten