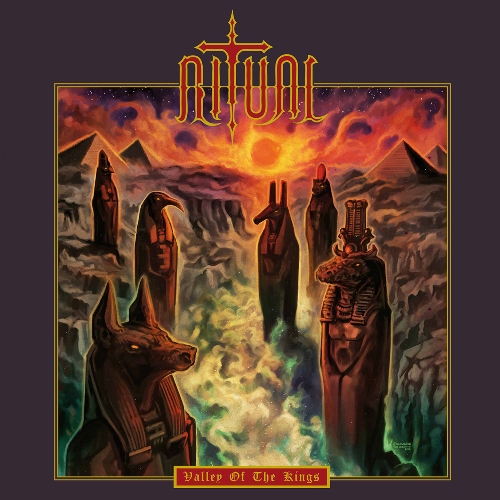 RITUAL
Titel: VALLEY OF THE KINGS
Spieldauer: 46:29 Minuten
Bands namens Ritual gibt es ja auch wie Sand am Meer. Hier geht es um die RITUAL aus London, welche sich bereits im Jahre 1973 gegründet haben und im Jahr 1995 ihren Dienst quittierten. "Valley Of Kings" ist das 1993er Album der Band, der zweite und letzte Longplayer RITUAL's, der nun von High Roller wiederveröffentlicht wird.
Thematisch kann man die Band zum Teil der New Wave of British Heavy Metal zu rechnen, obwohl vorliegendes Album natürlich zeitlich zu spät dafür kam. Zum größeren Teil aber zocken RITUAL eher Okkult Rock und werden vereinzelt – unter anderem im Info – als Säulenheilige des Okkult Rock gefeiert.
So weit würde ich nicht gehen, ich bin aber auch kein wirklicher Freund dieser Richtung. "Valley Of Kings" ist jedenfalls eher Rock und Hard Rock als Metal und kommt mir persönlich über weite Strecken zu relaxt daher. Allerdings muss auch ich ihnen zu gestehen, mit dem stampfenden, hymnischen 'Come To The Ritual', dem melodischen 'Gipsy' und dem riff-betonten, treibenden 'Lady Night' gute Tracks an Bord zu haben; für Spitzenplätze in der Bewertungsskala reicht es bei mir allerdings nicht, trotz einer neuen Bearbeitung durch den "Master"-Mind Patrick W. Engel.
Fans rockigerer Klänge sollten den Briten einmal ruhig ihr Ohr leihen.
Ludwig Lücker vergibt 6,5 von 10 Punkten