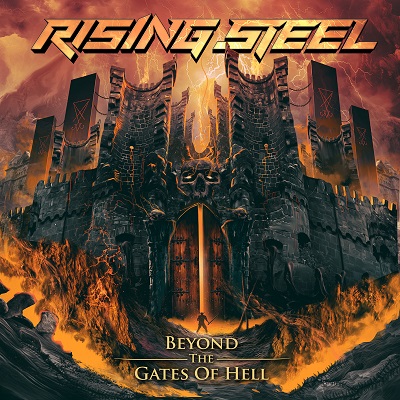 RISING STEEL
Titel: BEYOND THE GATES OF HELL
Spieldauer: 45:29 Minuten
VÖ: 18. November 2022
Ihren dritten Longplayer "Beyond The Gates Of Hell" stellen die seit 2012 aktiven französischen Metaller RISING STEEL vor, die ihrer Debüt-EP "Warlord" (2014) bisher die beiden Scheiben "Return Of The Warlord" (2016) und "Fight Them All" (2020) folgen ließen.
Stilistisch frönt der Fünfer aus Grenoble einem klassischen, von der 80er NWOBHM inspirierten Sound mit einer Menge Hardrock Einflüssen, einer Prise Thrash und ein wenig US Metal. Durch die zehn neuen Songs fühlt man sich in die Anfangstage von Maiden, Priest und Accept zurückversetzt.
Frontmann Emmanuelson gibt alles und setzt mit hoher Stimme, Screams und kraftvoller Performance Akzente in Stücken wie dem guten Titelsong und der Vorabsingle `Skullcrusher´.
Den bereits erwähnten Bandzitaten folgen weitere Reminiszenzen, beispielsweise an die frühen Metallica (`Run For Your Life´) und Nevermore (`Beast´).
Fazit: solider Silberling mit oldschool heavy Metal Sound, auf Albumlänge aber doch ein wenig langatmig, zäh und mit mangelnder Abwechslung und zu wenig echten Glanzlichtern.
Michael Gaspar vergibt 7 von 10 Punkten