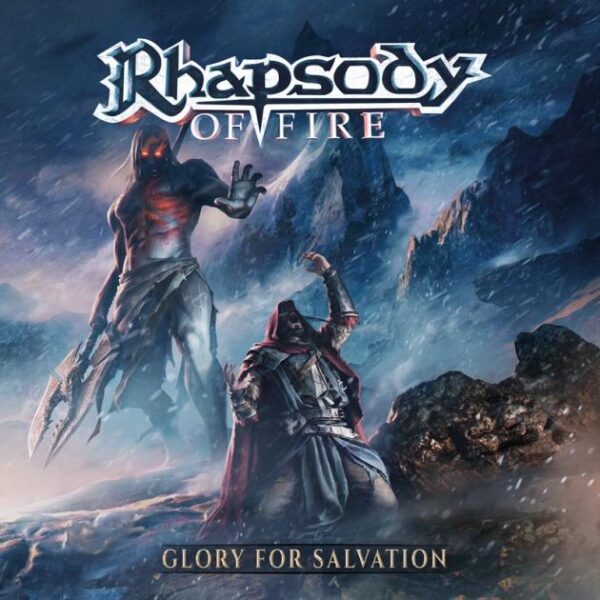 RHAPSODY OF FIRE
Titel: GLORY FOR SALVATION
Spieldauer: 66:11 Minuten
Trotz Namensänderung zu RHAPSODY OF FIRE im Jahr 2006, Abschied von Gitarrist/Mitbegründer Luca Turilli im Jahr 2011 und mit dem neuen Sänger Giacomo Voli (seit 2016) hält Keyboarder, Songwriter und Mitbegründer der originalen Rhapsody Alex Staropoli das italienische Symphonic Metal Fähnchen weiter unbeirrbar und unentwegt hoch.
"Glory For Salvation" ist das mittlerweile dreizehnte Studioalbum der tapferen Mannen und bedeutet das zweite Kapitel der so genannten "The Nephilim`s Empire Saga", die 2019 mit "The Eighth Mountain" begann. Die neue Scheibe setzt den Fokus noch mehr auf die symphonischen, monumentalen Arrangements und die epischen, majestätischen Songs.
Meine Favoriten sind jedoch nach wie vor eher die pfeilschnellen Power Metal Kracher mit hymnischen Refrains , die hier jedoch in Form von 'The Kingdom Of Ice', 'Infinitae Gloriae' und 'Chains Of Destiny' durchaus auch vorhanden sind. Und zwar so stark, dass sie ehemaligen Glanztaten wie 'Power Of The Dragonflame' durchaus das Wasser reichen können.
Daneben gibt es aber auch nicht minder packende, etwas langsamere, eher majestätisch-bombastische Kompositionen wie den Opener 'Son Of Vengeance', den mit epischen Chören gespickten Titelsong und vor allem das über zehnminütige Herzstück 'Abyss Of Pain II' zu entdecken.
Nach der kurzen instrumentalen Einleitung 'Eternal Snow' überrascht zudem das folkig-tänzerische 'Terial The Hawk' mit keltischen Flöten-, Lauten- und Violinenklängen und gutem Chorus. Auch die Ballade 'Magic Sings' und das von der diesjährigen Vorab-EP bekannte 'I'll Be Your Hero' können mit schicken Melodien und viel Gefühl und Eingängigkeit punkten.
Unter dem Strich ein großartiger, bombastisch-epischer, überzeugender Silberling mit starken Kompositionen und einem fantastischen Sänger!
Michael Gaspar vergibt 9 von 10 Punkten